Every few weeks we love to stop by our local thrift shop and see what hilarious items they have for sale. Granted, we don't always wind up walking out with anything. Sometimes, the used items people are trying to sell are just beat up, or too weird even for us to find a use for it, but sometimes they're just too good to keep just to ourselves. Check the absolute best of the worst below!
These Don't Look Too Stable
Blades, also called roller skates, have been making a major comeback for the past few years. If we really had to think about it, the last time we saw this many people rolling around was probably the nineties. Still, if you want to fit in with the rest of the cool kids, you're going to want to get yourself a real pair of skates. They don't have to be expensive, but they've got to be nicer than these.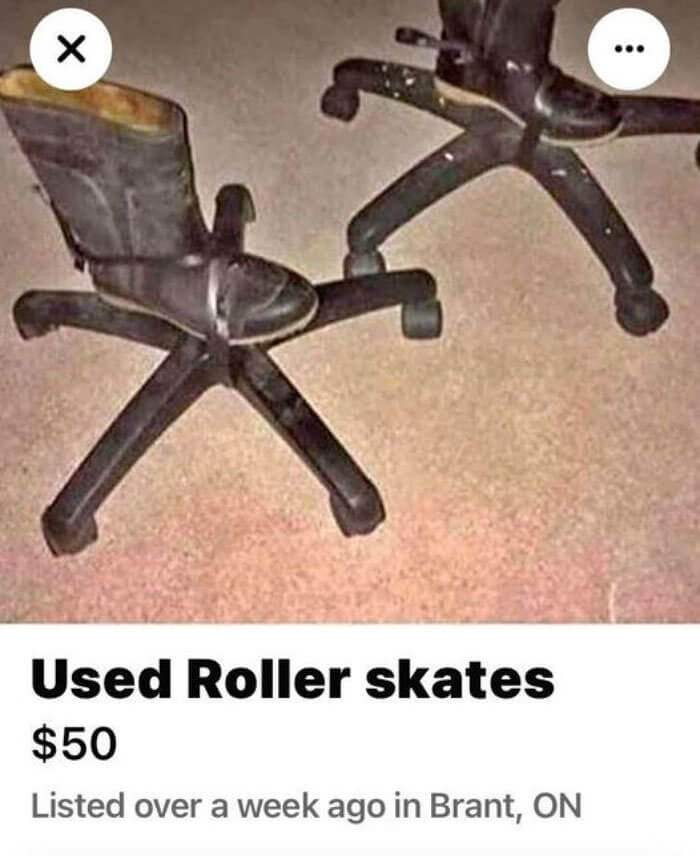 If this seller actually had luck skating on these things, we'd be impressed. But, these look even harder to use than regular roller skates, so we doubt anybody's buying. 
You're Not Talking This Guy Down
Have you ever been watching one of those pawn shop television shows, and seen a person come in whose item needed to be checked out by an expert? Our favorite thing that happens is when those experts say the item is worthless, and the people still demand exorbitant amounts of money for it. Also, keep an eye out for this guy to be doing that on your TV screen soon.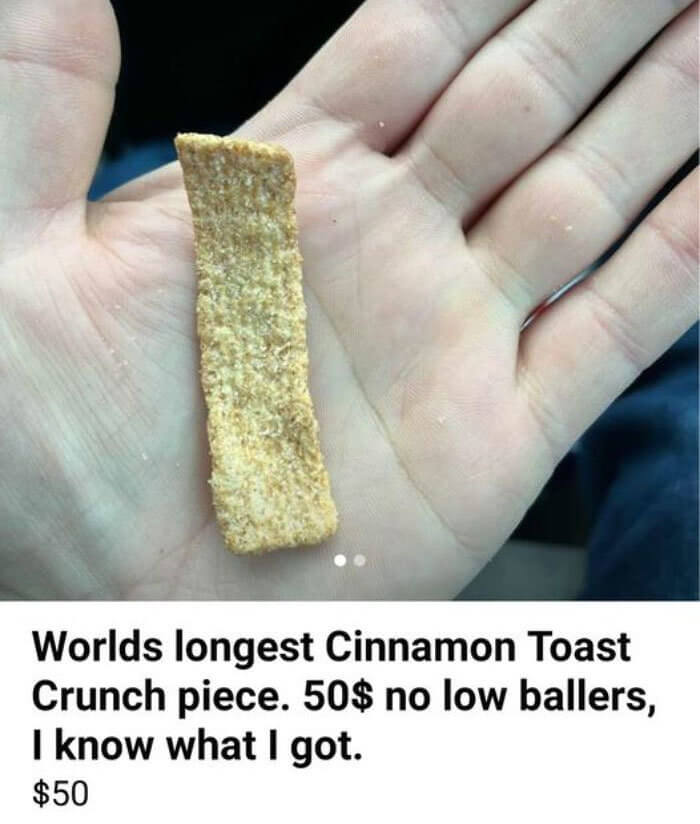 To be fair, a really long piece of cinnamon toast crunch could be incredibly valuable. We hate to admit it, but we don't know as much about the niche, interestingly shaped cereal piece market as we probably should. 
We're Guessing She Did This on Purpose
Surprisingly, mirrors are one of the most consistently expensive items in the antique market. So, we can understand this girl's desire to sell hers and make an extra buck. But, how antique is it actually if she's only asking fifteen pounds for it? And, also, what the heck is going on with her legs in the picture? Is scaring prospective buyers like a selling technique that we've never heard of or something?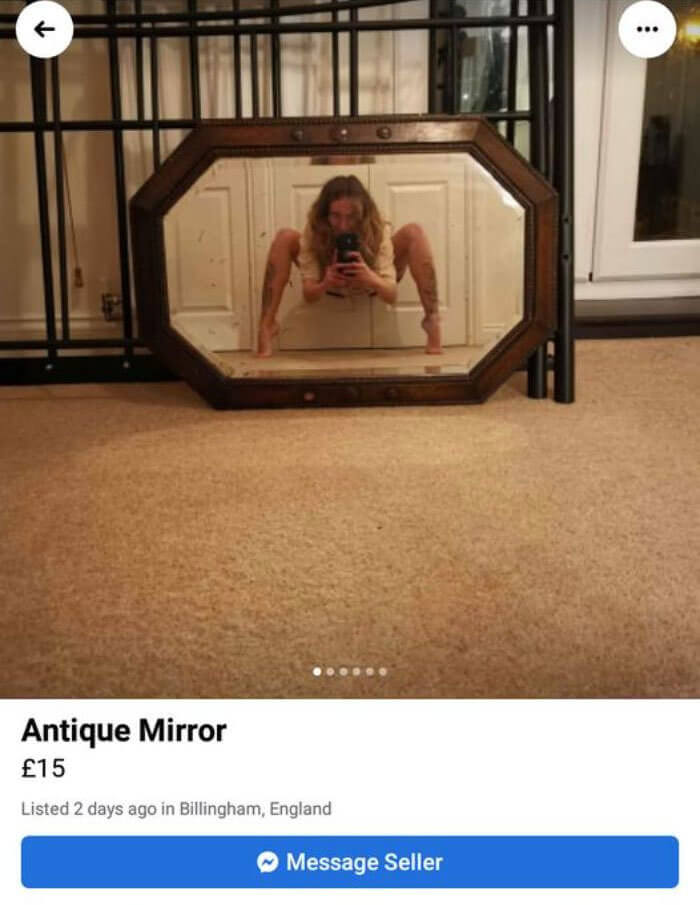 At the end of the day, it's actually pretty impressive that she can stand like that. This girl must have some background in ballet or something if she's able to pull this off.
You Can't Get Any More Classic Than This
Even though Facebook buyer groups are usually pretty legit, every once in a while someone slips past the moderators and is able to play tricks on the other members of the group. In this entry from Tennessee, somebody managed to post a picture of this classic vehicle, offering a great deal and only charging $300. Plus, as the buyer points out, the vehicle's got a good shape and it's great on gas.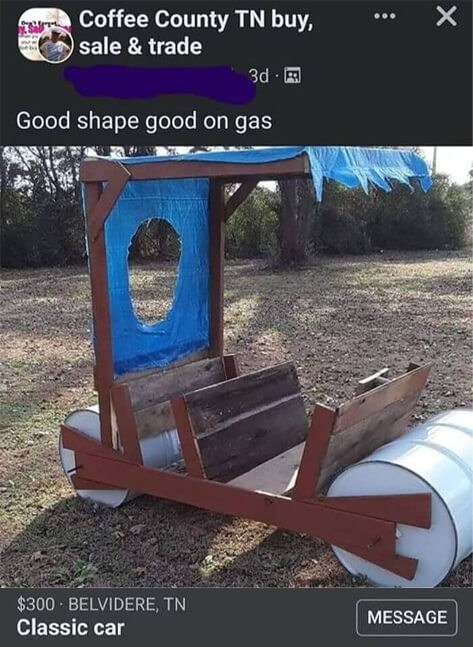 If you haven't gotten the joke yet, then we must really be showing our age. That's a replica of the Flintmobile, also called the Canopysaurus and the Cavemobile, Fred's ride from the classic cartoon The Flinstones. 
This Guy Just Loves Apple Cider
Anytime you're buying a piece of furniture or a vehicle, you want to know where it's coming from. If the previous owners really abused the item, you probably should stay away from the purchase or at least get yourself a discount. In this case, though, we hope nobody actually went through with the purchase. The gaming chair (not chare) in question looks like it's in fine shape, but the environment it's coming from is absolutely disgusting.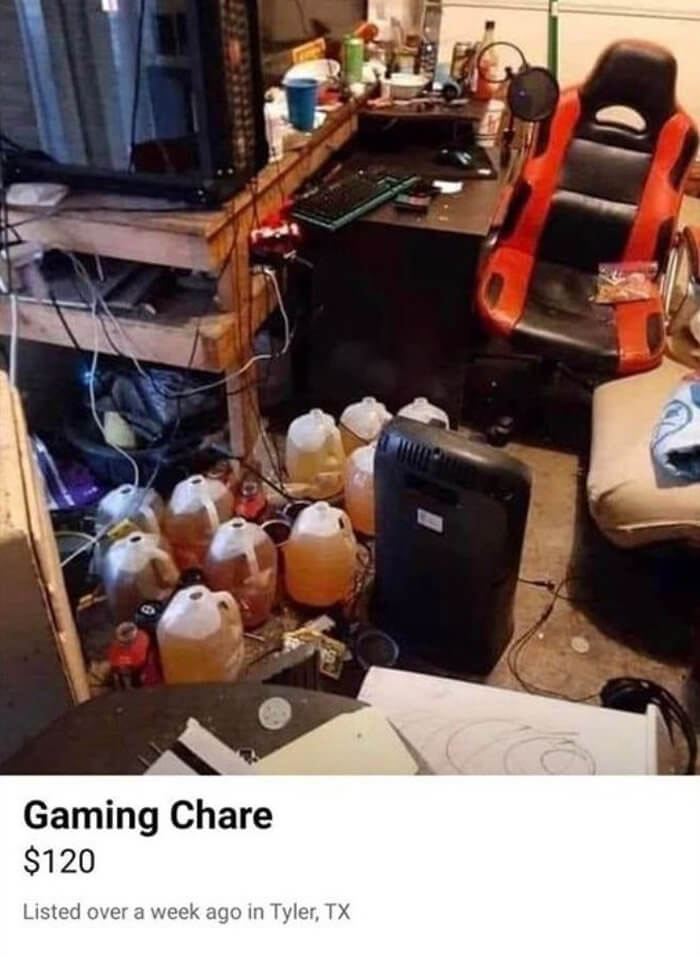 This seller is absolutely living in filth with a bunch of piss jugs on the floor! There's no reason anyone should buy this chair– the thing is probably covered in bacteria. 
Anyone Have Some Extra Feijoas Lying Around?
There's nothing worse than going shopping online, only to get duped by a false headline and wind up buying something you don't enjoy. Thankfully, this seller on Facebook isn't out to scam anyone like that. He posted a pair of Nike kicks that would probably go for a lot of money in the right sneakerhead circles. But, he's not a fan, and he says loud and clear in the advertisement what else he thinks of these shoes.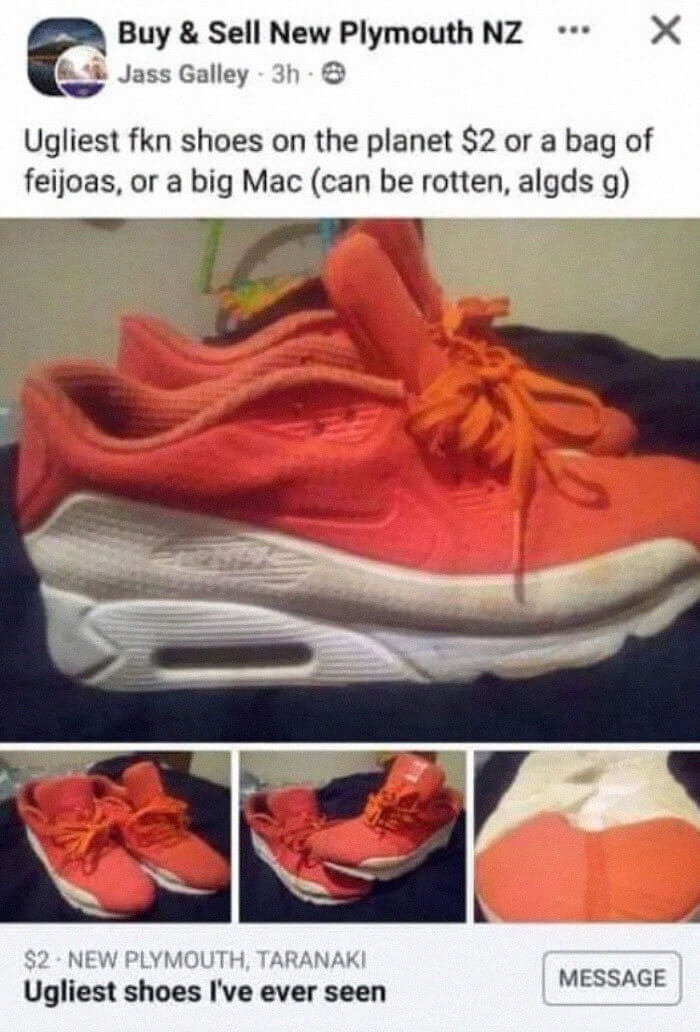 This guy is going to sell these for a simple bag of feijoas! That's a pineapple guava by the way. Still, we've never been able to buy shoes for less than four or five bags! 
A Falser Description Has Never Been Typed
It's one thing when a seller tries to pull the wool over your eyes, but it's another thing when the sellers themselves is blind to the product they're holding. Sometimes, that means you can get items for a steal. But, a lot of the time it'll wind up like this. You've got a woman trying to sell heavily used Birkenstocks by claiming they're only gently used– and she's charging eighty dollars for them!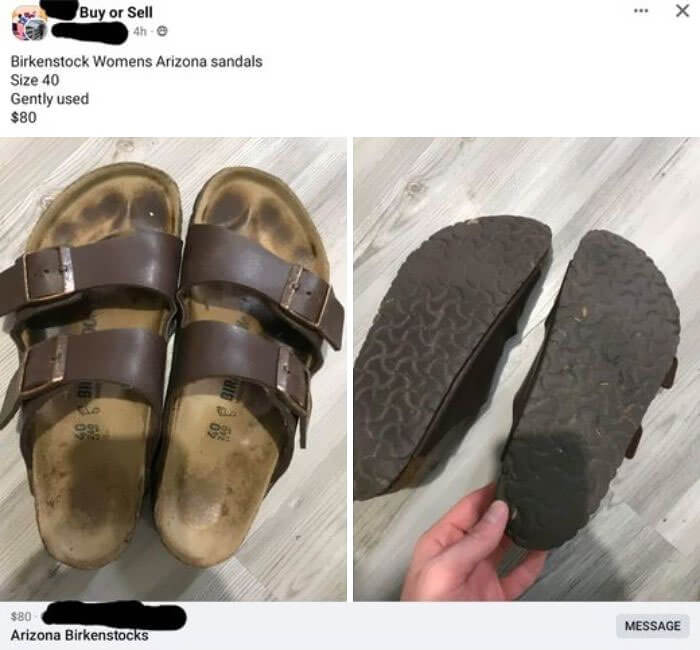 A new, long-lasting, non-feet-smelling already pair of sandals will probably run you like $120 in the right location. So, it wouldn't make any sense for someone to buy these. 
We're Going To Stick With Hand Sanitizer
When the website Etsy launched, it gave creators this new space to share and try to sell their work. Plus, all of a sudden, now consumers could get all the wacky, organic, homemade products their hearts desired. Still, there are a few things that probably shouldn't be sold on the site. Those same few things probably shouldn't be sold at farmer's markets, or really anywhere, ever. Like this one down below– a bar of soap that nobody asked for. 
We don't love the nonchalance this creator is showing for their soap recipes either. Some with oats, some without, we're not sure– but they've all got breast milk inside! Isn't that weird? 
That's One Way To Kickstart A Divorce
Most monogamous couples would agree that cheating is grounds for termination. End of the game, end of the relationship– sayonara. But, in situations where that happens, how is a person supposed to just pick and move on? Especially in cases where someone lives with the cheater, or shares ownership of a bunch of things, there's no easy way to split the bill. Still, this woman thought of a pretty inventive solution to grab herself some walking around cash after her husband cheated on her.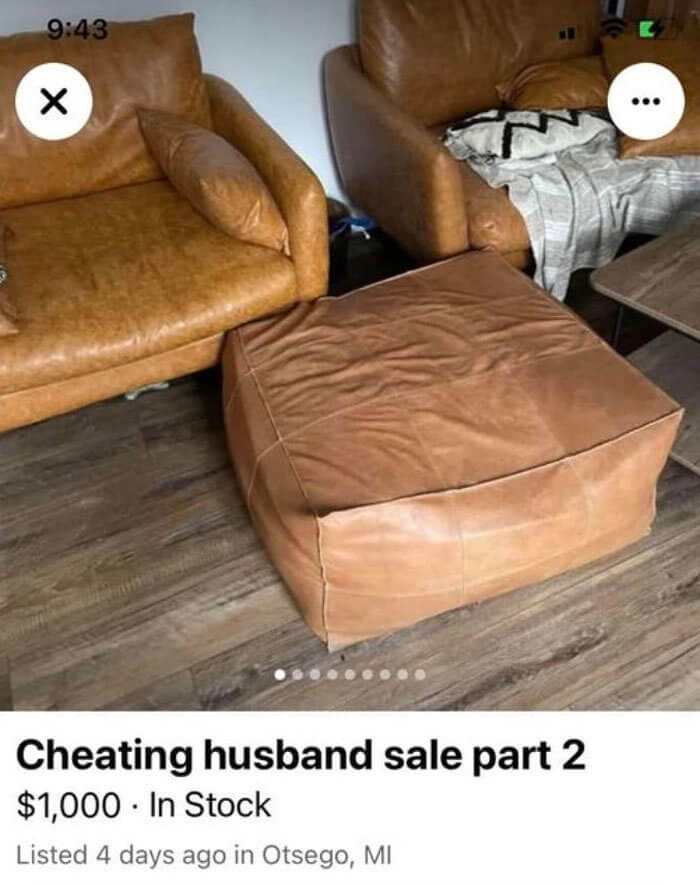 At this point, we're just curious which items were a part of cheating husband sale part one. And also when is part three? 
At Least They're Being Honest
A lot of the time, if you go trolling Facebook marketplace for deals, all you're going to see are items that people should've thrown in the trash. Even though so many of these sellers already recognize that an item is kicked, they try to squeeze it for an extra buck. That's what happened here, where a leather couch that's already falling apart found its way onto the marketplace. At least it comes with crumbs though!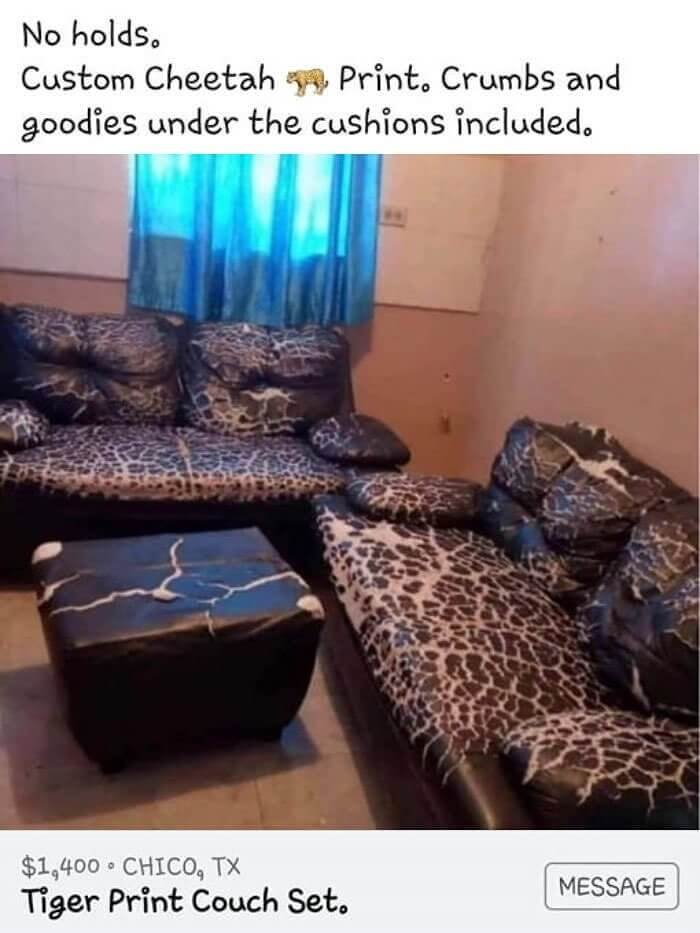 These lunatics are asking $1,400 for that couch! The thing has to be at least twenty years old, and isn't worth more than the few dollars it'll take to hire someone to carry it out to the dumpster. 
Mother's Day Gift Indeed
Have you ever gotten a present from someone that they clearly just wanted for themselves? We feel like this mother's day present falls into that category. They're called slippers for the discrete woman, but really they just look like a present from a chauvinist man. Alright, maybe it's not that bad, but look at the different perks these slippers offer, and then tell us this isn't just cleaning supplies for your feet?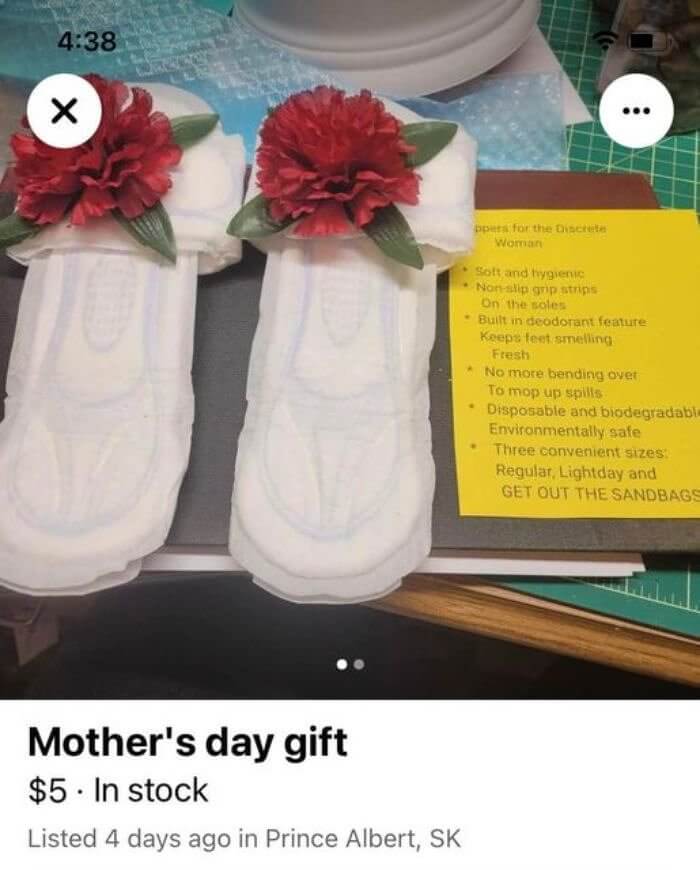 We've got to be honest, the description isn't really selling us on this product either. When we're buying slippers, we don't want to be having flashbacks to the sandbag incident all over again. 
Dwayne Johnson, Notorious Fan Of The Ford Ranger
If this information is true, then this car is going to be a steal. Apparently, this guy is holding onto one of Dwayne The Rock Johnson's own cars, and it's in excellent condition. Plus, the seller says he's got photo proof that it's the Rock's car. Except... well, you take a look at the photo proof and then you tell us what you think. Was this really the Rock's car or not?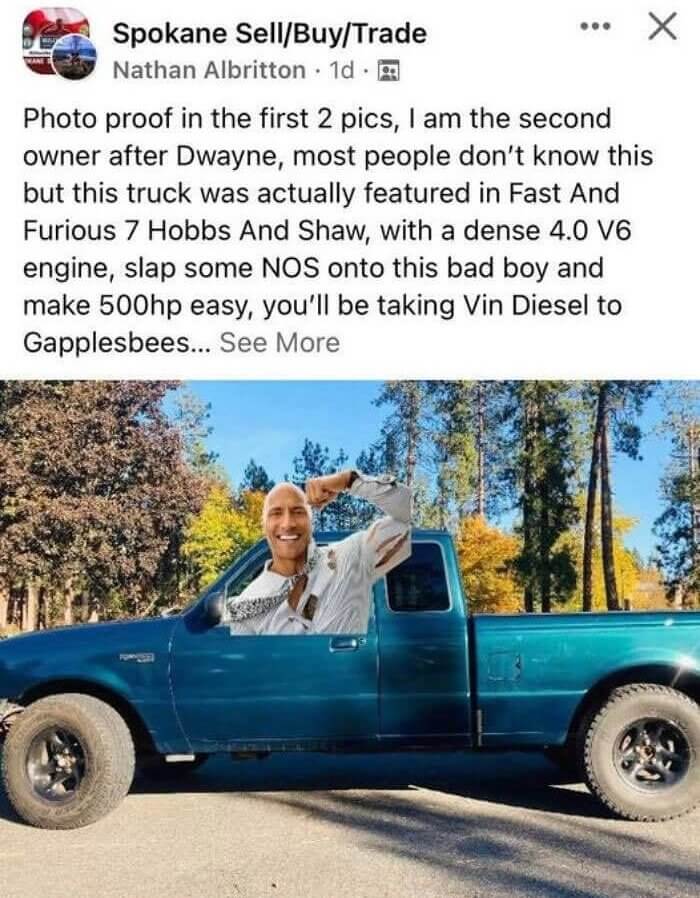 We're obviously leaning towards not. We can't imagine the seller thought people would actually fall for this either. So, the whole thing must've been to get more attention for his post. 
Some People Don't Need 3D Printers
As technology has advanced, more complicated machines have become more available for the general public. Just a few years ago, 3D printers could only be found in specialty print shops, and now almost everyone we know has a friend that owns one. Still, that doesn't mean everybody needs one. In fact, a lot of the people who own 3D printers already probably don't need them either, especially if they're going to be making stuff like this.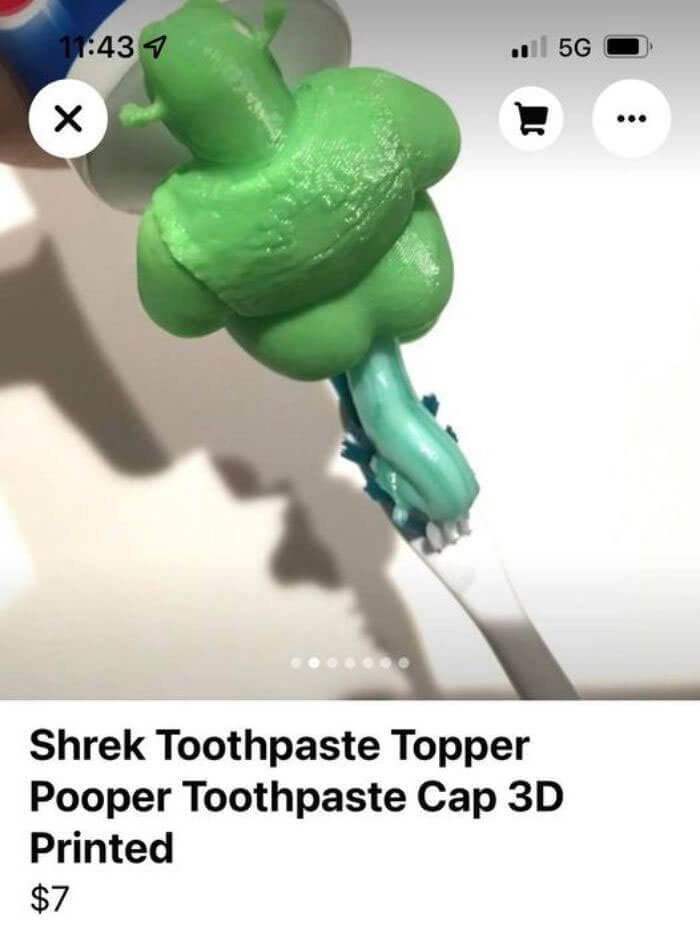 We love Shrek just as much as the next guy or gal! We especially love Shrek 2. But, that doesn't mean we want him pooping on our toothbrushes every night. 
Call For Price
It's so frustrating when a company posts a job online, but doesn't include the salary expectations with it. The same thing happened here, where a guy listed his old El Camino and said people should call to inquire about the price. Still, he can't be asking more than ten, fifteen dollars for this car, right? The thing is rusted beyond recognition and has a literal tree growing out of the engine bay!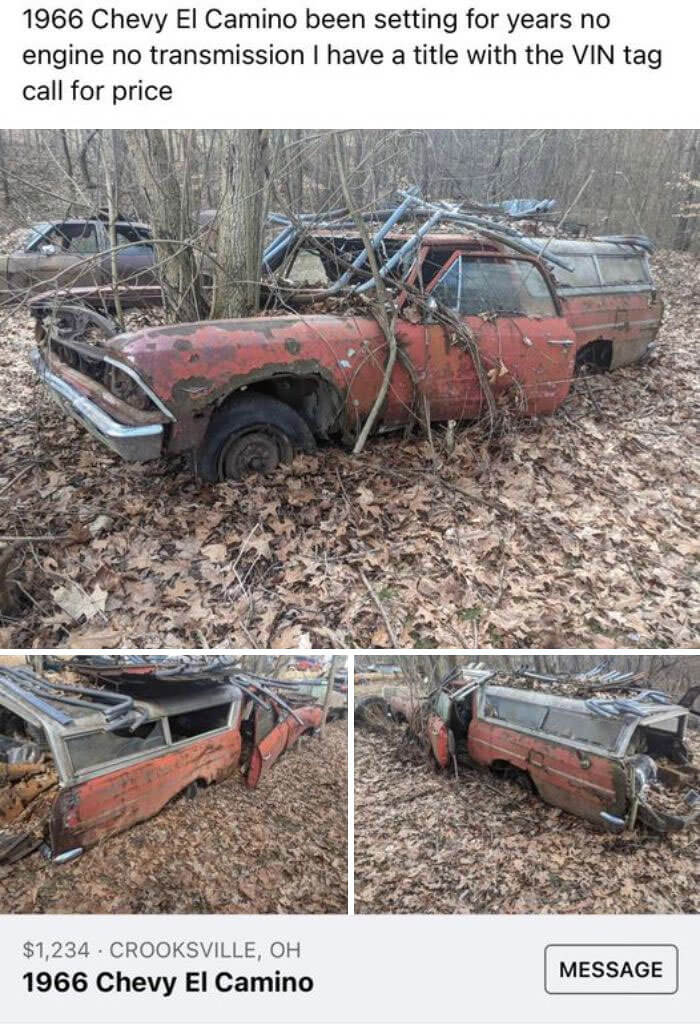 There are certain car people who would relish the opportunity to restore that thing. The El Camino is a classic, after all. But, from our point of view, this one looks just too far gone. 
Imagine What It Would Look Like With A Backlight
We're retching just looking at this picture, so tread lightly going forward. We can't believe someone would try to sell this completely ruined mattress online. Well, they're not selling it. It's listed as free– which we guess is fair– but it really shouldn't be listed at all. If you shined a blacklight on that thing, the mattress would probably light up like the New York City skyline. What even are those stains anyway?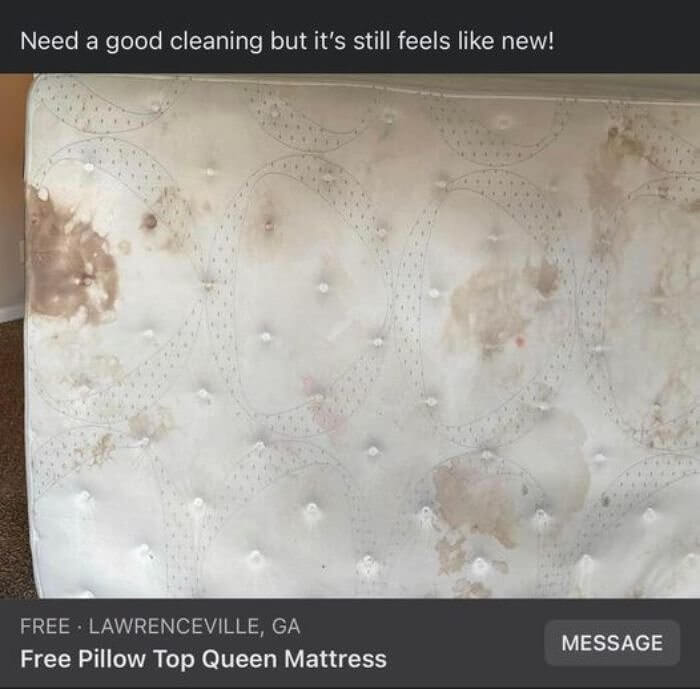 You spend roughly one-third of your life sleeping or lying in your bed, so you might as well enjoy that time, and stay away from this disease-riddled mattress. 
Works Good Though
For a little while there, it seemed like curved TVs were really going to become the next big thing. Of course, they didn't, and it just turned out to be a fad. But, an embarrassing amount of people who didn't understand how television screens work tried making their own DIY curved TVs during this time, with hilarious results. After this seller tried that out, they even wound up turning around and trying to sell the broken TV!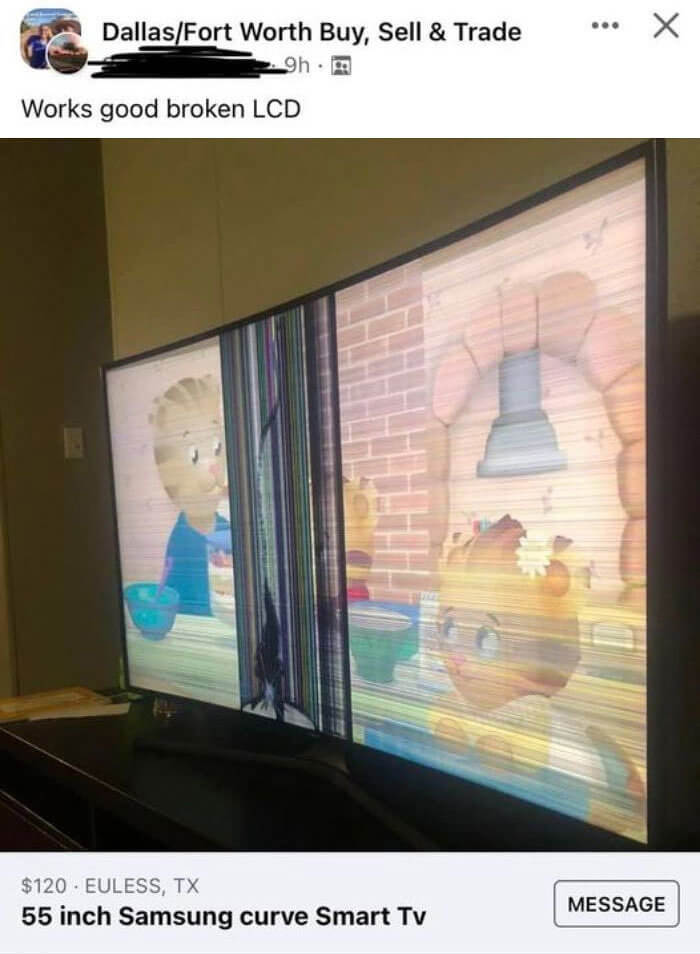 We love the bold-faced lie this guy put in his advertisement. That television only "works good," if you're blind, and only bought a TV to listen to it like radio. 
We Wonder Who Actually Buys This Stuff
There are three types of people out there: those who like showers, those who like baths, and those who are dirty. We personally fall into the first category, but for those of you in the second, you might want to check this hip invention out. It's an inflatable bathtub that drains directly into your shower drain, which will be way more comfortable than a traditional bathtub. Still... why is the floor in the bathroom carpeted? 
These can be useful if you've got a big shower and no bath, or outdoor space to use this in. Still, we haven't found many homes that don't already come with a tub, so this might not be neccesary. 
At Least They're Free
Is this it? Is this what this person is using the internet for? To go on the Facebook marketplace and post pictures of yacht rock superstar Kenny Loggins while claiming that it's Jesus? At least they're offering the pictures for free, but what could they possibly stand to gain from this exercise? Just seems like a one-way ticket down the highway to the danger zone if you ask us.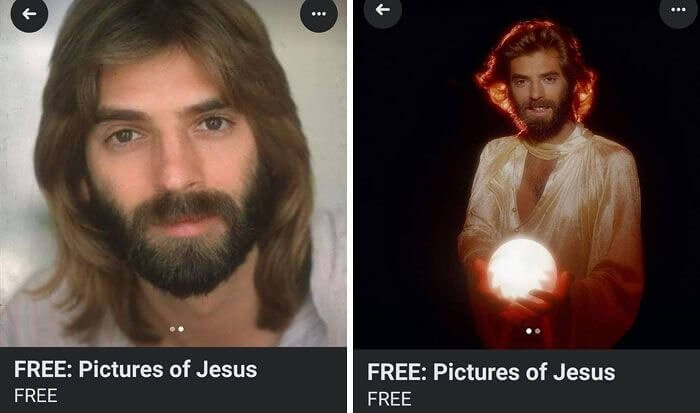 If anyone actually ordered these pictures, we'd be shocked. They have to realize that's not Jesus, right? Like, during which part of the bible did Jesus wear Jerry Seinfeld's puffy shirt and play with a glowing orb? 
We Want The Whole Cogan
English is an incredibly hard language to learn since it contains so many exceptions and strange rules. Still, the best thing any language learner can do is to just try to sound words out when they're having trouble. That's what this person did! Still, while it helped them get their point across, they probably could've spent some more time proofreading. The action figure looks great, but we can't figure out who Whole Cogan is.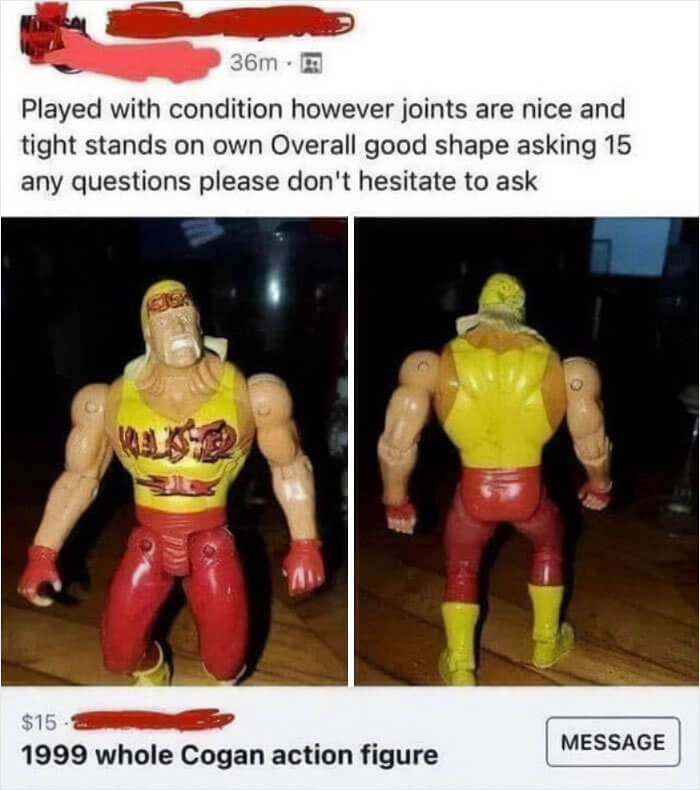 If you say Whole Cogan slow a few times, you'll realize that this is a Hulk Hogan action figure. We're not sure what happened to Whole Cogan, but that's another story for another day. 
That's A Little Steep, No?
Even though there are a lot of good people selling products on the internet, there are a lot of scam artists out there too. This guy gives off that kind of energy, which makes us glad we weren't the ones that had to deal with them. Apparently, when this person messaged to ask about a cheap, kitchy mug, the person tried to charge them $250!  Later, the prospective buyer found the mug online listed for $30.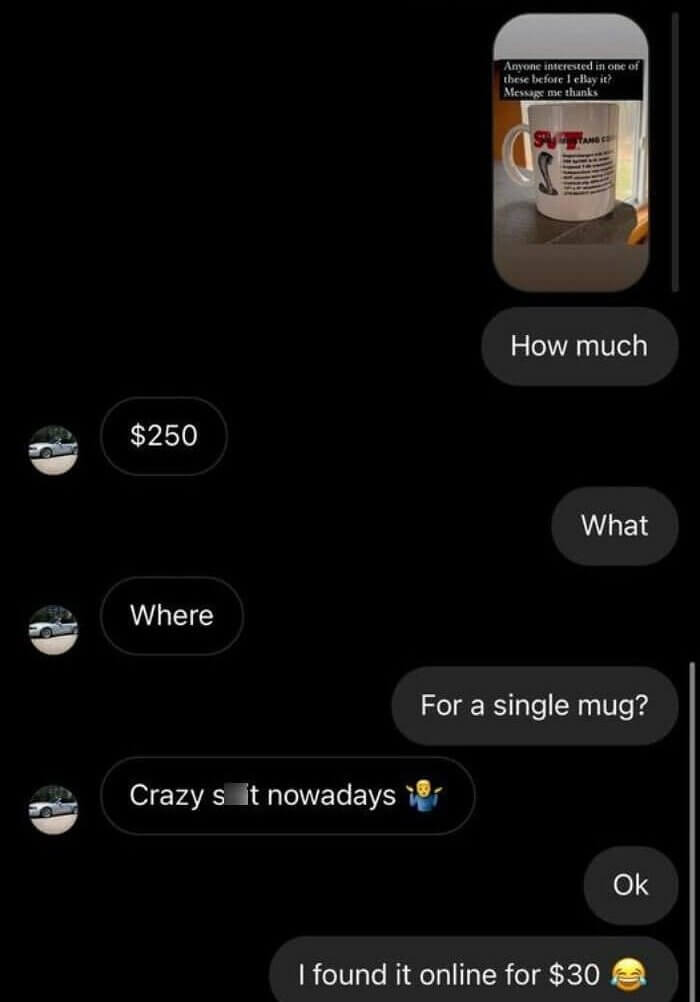 Here's a tip for all you sellers out there: if a cursory Google search reveals the exact same product that you're selling, but for eight times less money, you might want to drop the price. 
Is That $275 For All Of Them?
Do you know those hipster chefs who are just taking things too far? They're putting flavors together that clash and creating these intricate dishes for the sake of "fine dining" when really it just seems like they pulled the idea out of a hat. That's what we feel is going on here. For some reason, somebody decided to core out a bunch of cucumbers and then fill them up with hot dogs.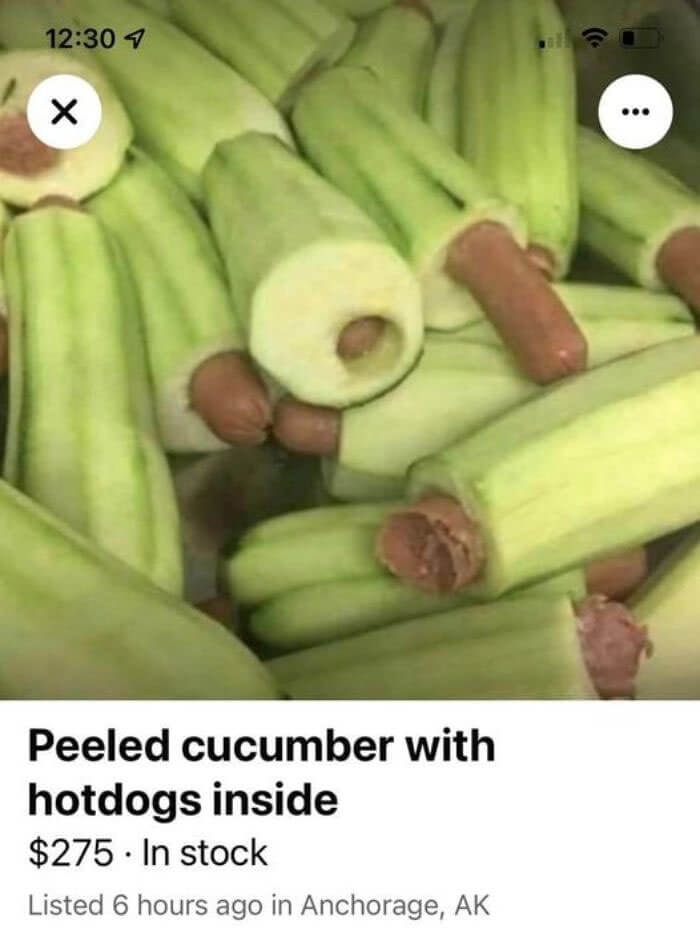 At $275, this could be a real steal! You just need to find a group of people who hate eating their hot dogs cooked, or in buns and try to sell this back to them. 
What's With All The People Selling Food?
So, you go, you sit down at a restaurant, you order food, eat it, and then pay for it. That's a normal transaction, right? Well, that whole situation becomes different when the food you're buying comes from a random person on the internet. Sure, it might be cool that the food is shaped like an Among Us character, but this guy's greasy fingers have been all over the cheetoh already. Why would you want it?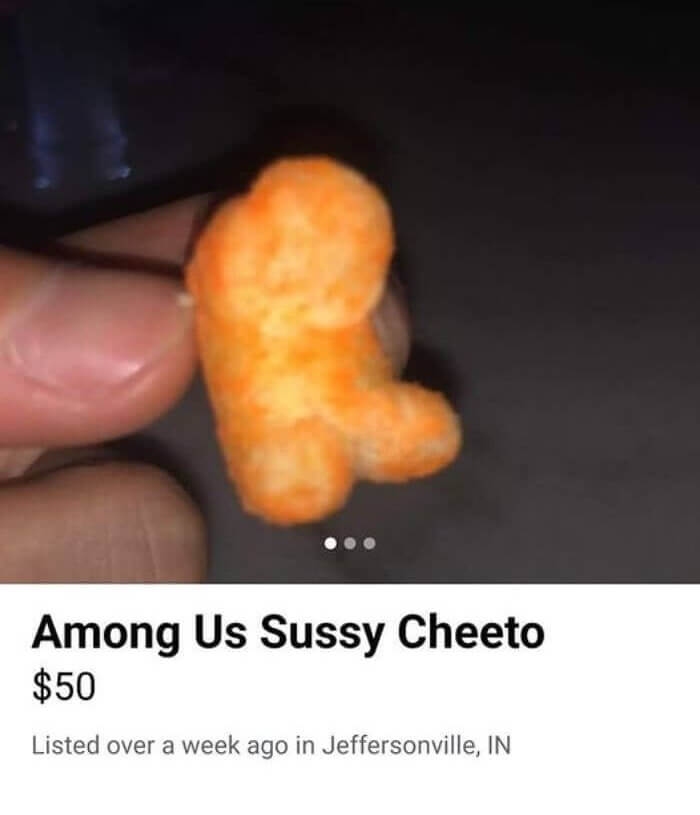 So many people turn to the internet with their weird-shaped pieces of food and try to sell them for a profit. A lot of the time we think this might be a scam where the person carved the shape, though. 
We'll Take It!
You know what they say: one man's trash is another man's treasure. Except in this case, the one man's trash is actual trash. A lot of the time, if you're completing a big home project, you'll need to rent a dumpster or pay the dump to haul your garbage away. That's why this person tried to convince some random internet users to come pick up his trash for free instead!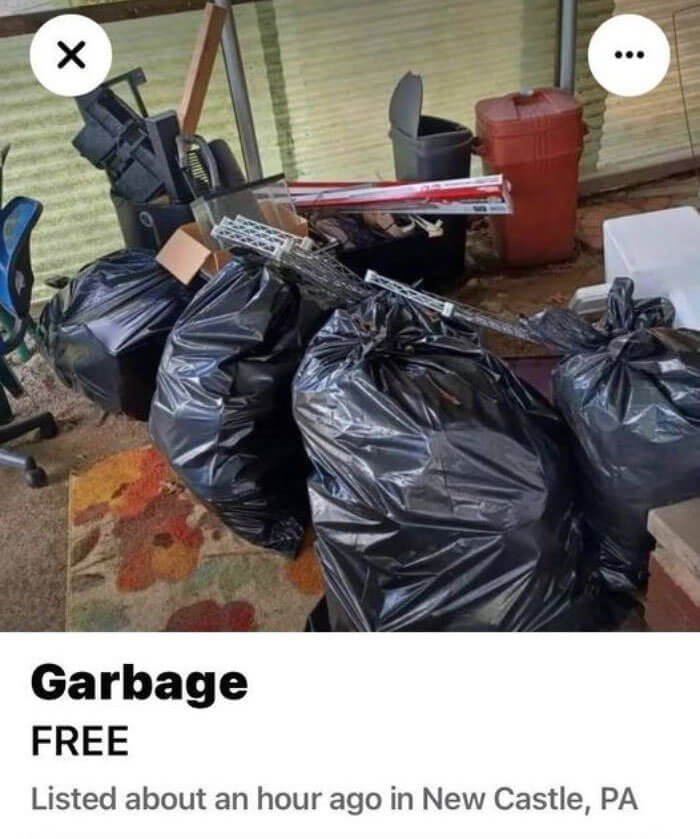 Granted, this is a great workaround for the trash collection fees you don't want to pay. But, you need to find some people who are willing to dig through the trash for something of value first, which is going to be harder. 
This Gives Us The Creeps
Personally, we've always struggled with science fiction movies and futuristic design concepts. We prefer the old, simple way. That's why we get so scared when we see humanoid shapes used for interior design. The whole thing feels very apocalyptic and uncomfortable for us. And, if we walked into a friend's apartment and they had this table sitting there, we'd probably turn around and run away as fast as we possibly could.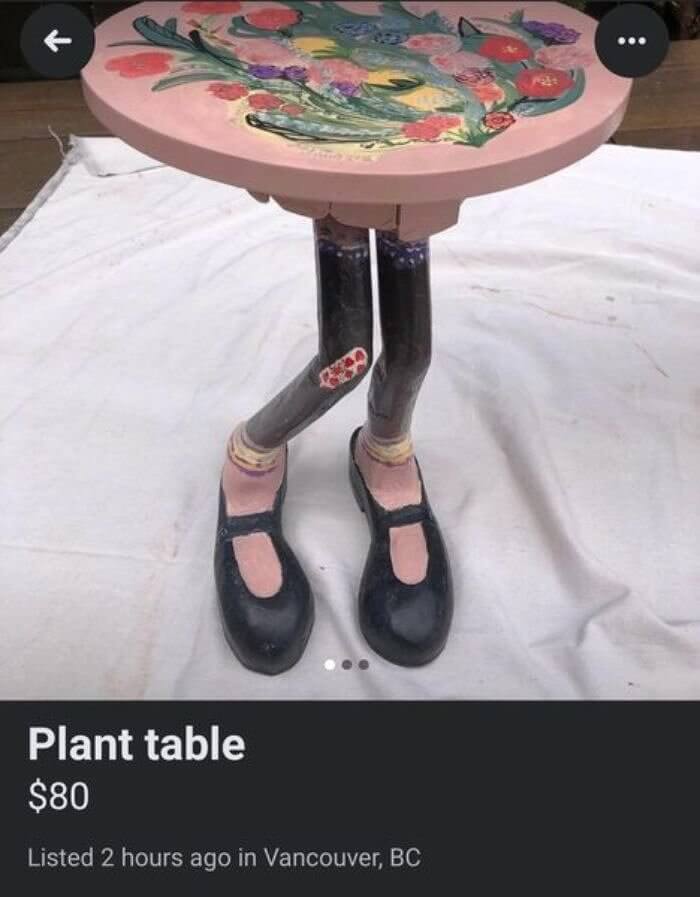 Doesn't this thing just give off the worst type of vibes? We feel like this table was carved by a predator while he was serving time for his crimes or something. 
Could You Paint It At Least?
When a mechanic, or a carpenter does work for you, they'll usually wind up charging you for parts, and for labor. Still, this person is trying to charge $65 for a basic shelf that they clearly built out in less than ten minutes out of refuse scrap wood (for a grand total cost of $0). So, honestly, anyone who ran across this post would've been better off making their own as opposed to buying one anyway.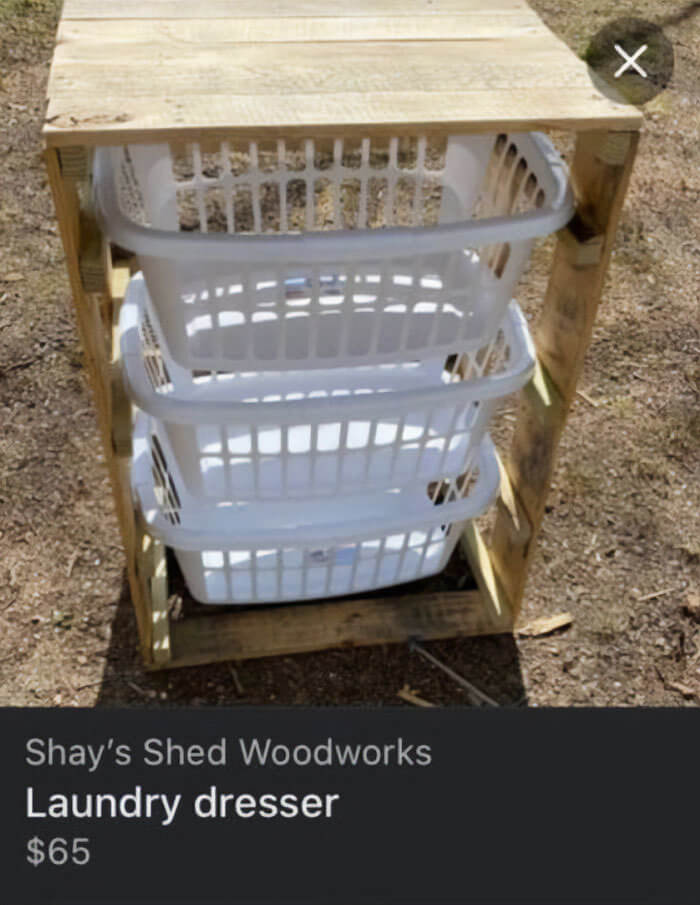 If this seller wanted to have any chance of offloading this item, he should've taken the presentation a little more into consideration. A little paint goes a long way!
Please Tell Us A Child Made This
There's a reason that there are more painters than there are sculptors out there. Sculpture is an incredibly hard form of expression and depending on what medium you're creating with, the method that you follow to set and cure the work is going to be very different. That's why we can't really blame this person for how this statue came out, but if it was up to us it never would've gone up for sale.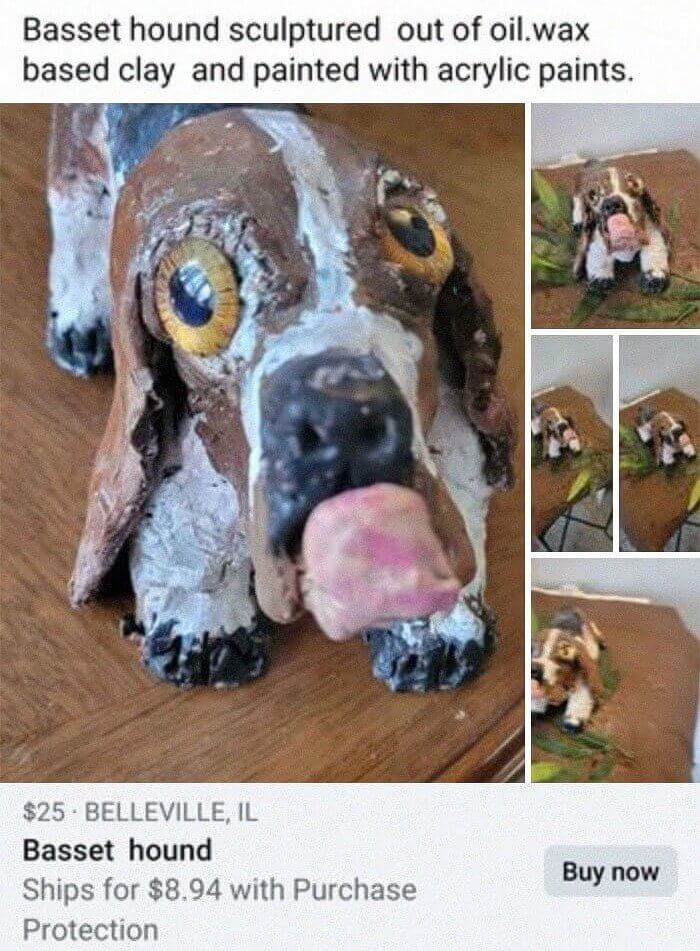 This is the type of project that we feel the artist should hold on to. Then, in a few years, they can look back and realize all of the incredible progress they've made! 
Is That Mold On The Orange Part?
Again with the food! Why do these people think that anybody out there wants to eat their strangely shaped convenience store snacks? We especially can't believe it in cases like this, where the item has clearly been manipulated by the seller (the worm is stretched out in the middle), and it's also showing its age (as we asked before, is that mold?). Plus, what's with these prices? You're charging $20 with $16+ for shipping?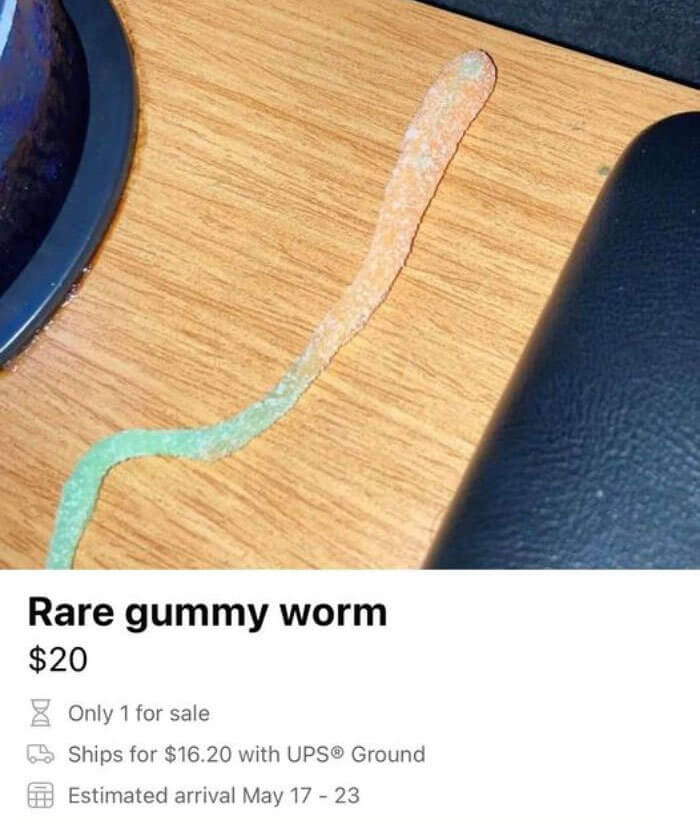 The best-case scenario with this situation would have been if the seller just threw out the gummy worm and gave up. Seriously, you're going to give somebody food poisoning, Man! 
Keep This Decoration Away From The Kids
It's nice when you become an adult and you can finally move into your own home, and decorate things the way you like. Still, there's a limit to acceptable taste, and we think this is crossing it. We don't know what about this is warm, or cozy, or wintery, but it's definitely weird, and it's definitely inappropriate. From our point of view, it kind of just seems like that "decoration" is just a stand for someone to keep their bondage toys?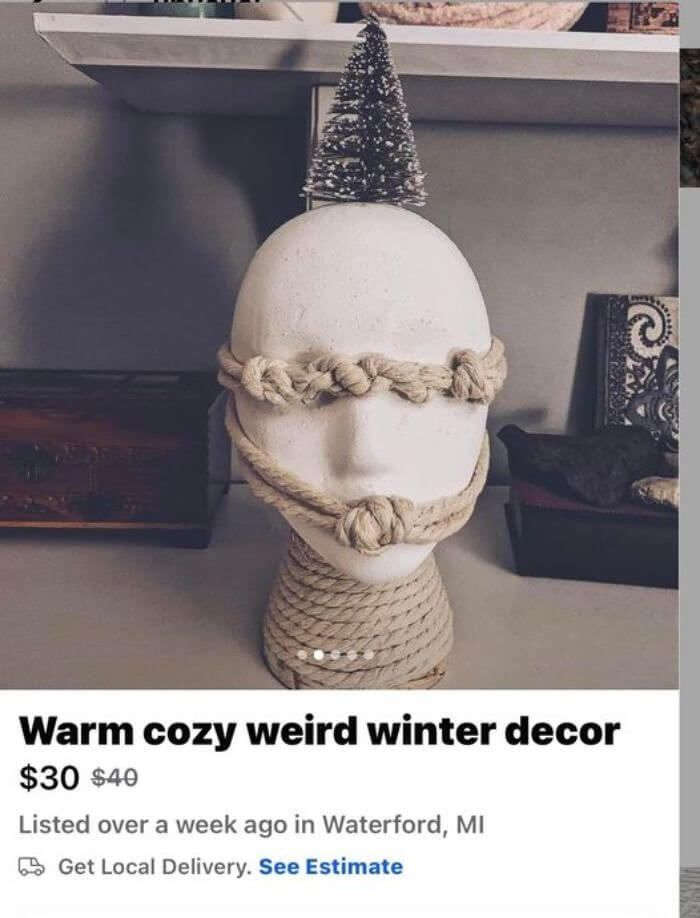 The mannequin is literally wearing a ball gag! Why would you list something like this to sell online. It's probably used too, which... yuck. 
The Greater The Haunting, The Greater The Price
If you're one of those people that's fixated on the supernatural, do your thing. It's not really for us, but we do have a question about something. Are ghosts tied to places, or are they tied to objects? Like, if a ghost really liked a particular stroller in a particularly creepy basement, would they be transported to the new basement when that stroller was sold? Either way, we don't think we'll be bidding on this one.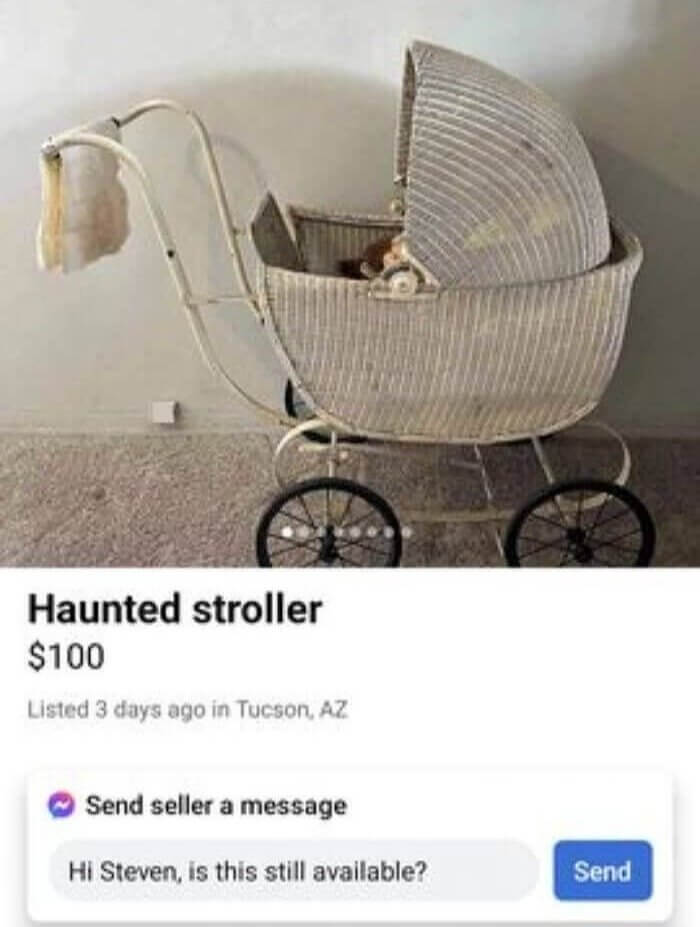 We can understand a person who wants to watch a horror movie every now and again, but this is going too far, don't you think? 
Where Do You People Find This Stuff?
The vintage and antique market is an interesting beast. There are certain items that do incredibly well, like old unpopular toys, whereas anything that was popular has less inherent value since more were made and therefore more are likely to still exist. Still, whenever we see toy hauls like this, where a giant bag of vinyl baby doll faces is being sold, we can't help but wonder why the person was holding onto all this stuff for so long in the first place.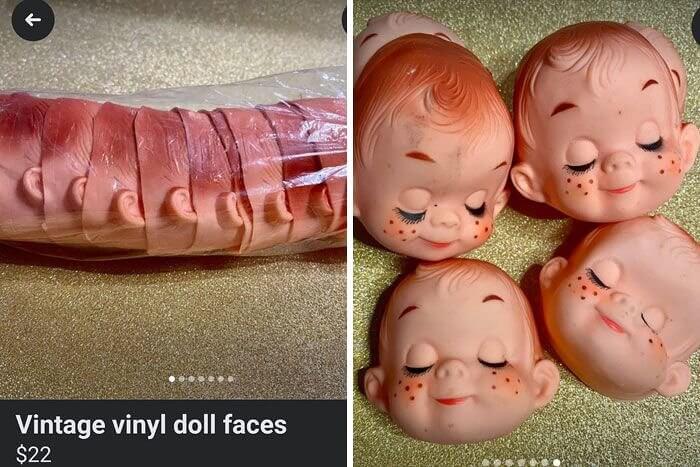 To be fair, the kids' faces are actually pretty cute. They're not like Chucky or anything. But, they're just loose faces, like Hannibal Lecter wears, so still creepy. 
These Two Look Like They're Planning Something
At some point or another, most children wind up playing with baby dolls or playing house with some other object. At that age, we all can't wait to grow up and become parents, so it's tempting to pretend we're already there. Still, we're not sure if we'd want to be parents to either of these two. Don't they look snarky? Those judgemental eyes are definitely just waiting to catch us messing up our parenting duties.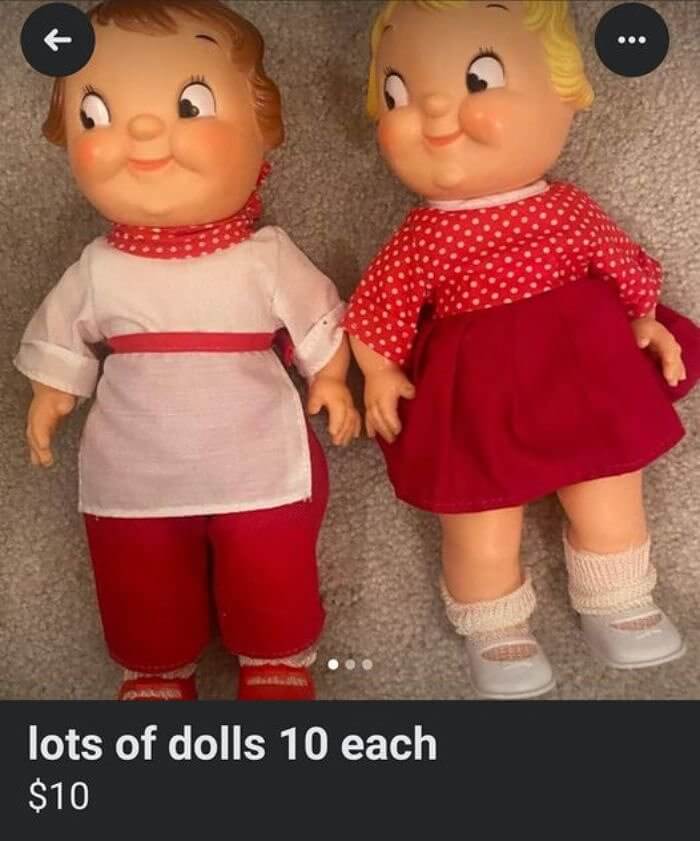 Those dolls are actually Campbell's Soup Kids, so if they're originals, they're going to be worth a lot more than $10 for each doll. An original in good condition could go for upwards of $50 to the right buyer. 
Something Tells Us This Wasn't Always A Camper
We know that the RV industry had to get creative when the supply chain got messed up during Covid, but we didn't know things had gone this far. All of a sudden, people are chopping the front axle off of cars and calling it a trailer? To us, a proper RV, or teardrop trailer / metro camper is going to have been made specifically for that purpose, with some weather and sound proofing to boot.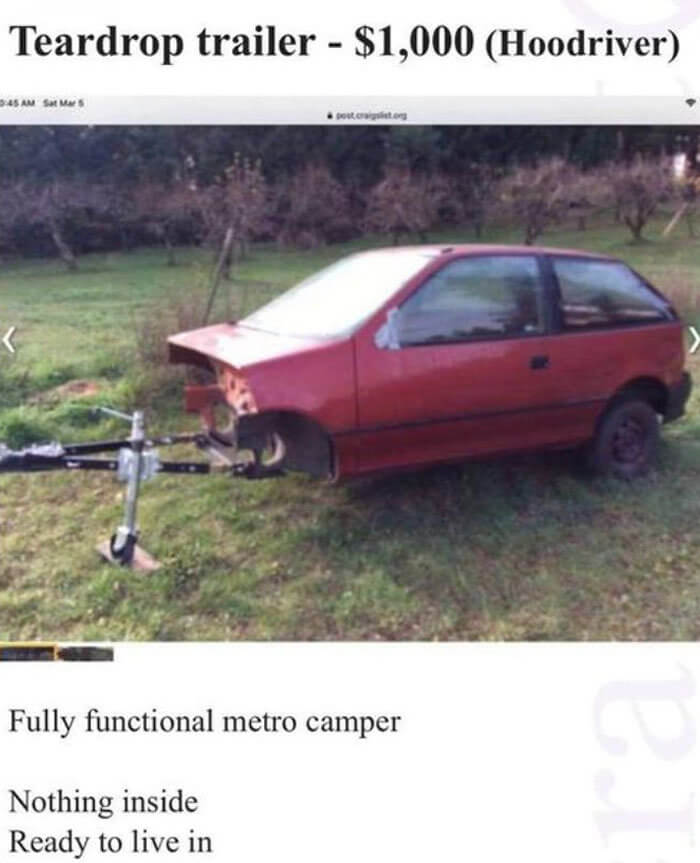 We're not saying this guy wasn't inventive for taking what was probably a totaled car and trying to make a product out of it. We're just saying that we're not buying. 
Have You Ever Seen An Uglier Decoration?
We're not usually in the business of insulting people, but this just seems like an exercise in bad taste, no? Who wants a giant, bedazzled, sparkly mannequin sitting in the front hallway? People are always talking about needing more space in their homes anyway. So, how does adding a decoration that's the size of an entire person help with that? Frankly, we think whatever artist created this monstrosity needs to take it back and live with what they've done.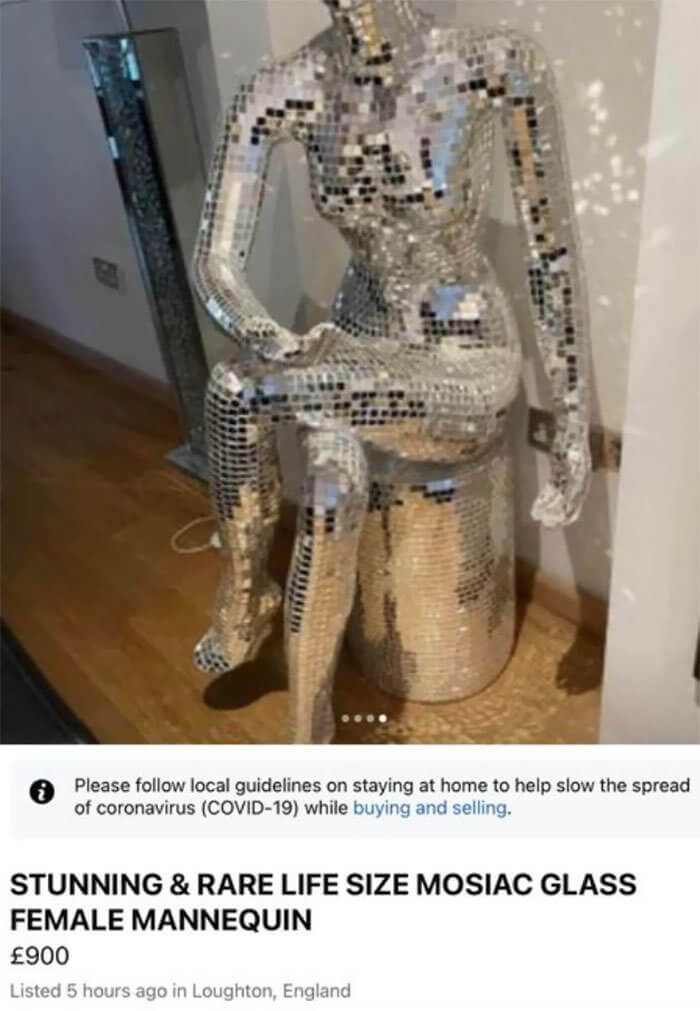 Also, we know the Facebook algorithm gets finicky sometimes, but how does this post have anything to do with Covid-19? It seems like they're flagging everything these days. 
Are You A Glass Half Empty Kind Of Person?
When we originally saw this post, we couldn't help but laugh. The kid is asking $125 for half of his $1.25 chocolate milk. To take it even further, we realized that after the milk was opened, drank halfway, and kept unrefrigerated, it's probably already starting to turn. So, we're charging $125 for some curdled milk and chocolate syrup these days, huh? Times must really be tough out there for these young hustlers. 
Up somewhere like Wisconsin, maybe this would work. They love cheese curds, and all kinds of other fermented milk product, so maybe this kid just needs to expand his search area. 
Does The Price Include Installation?
We hate a vague posting on the marketplace, don't you too? We get excited when we see a picture of a product we might want, and then we realize that that's not actually the product for sale. We think that's what's going on with this picture below, but frankly, we're not sure. In the picture, you see a nice hallway, with a nice mirror, a nice shelf, and a nice umbrella– but the posting just says "Entrance Hall."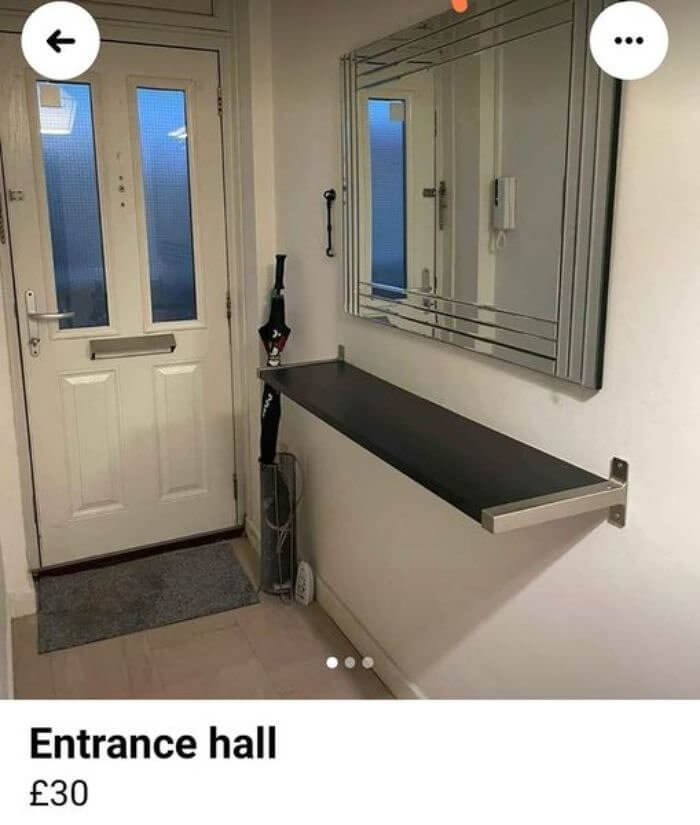 So is the whole entrance hall for sale? Does that include installation into the home? Can it be bought, and added on to my current home as an addition? This one just gave us so many questions. 
Frankly, This Is The First One We'd Buy
You may not have seen many items on this list so far that you'd call desirable, but that's all about to change. Introducing, the Ru Paul chia pet. This hilarious novelty gift uses the same patented formula as all the other chia products but features everyone's favorite drag queen. Plus, the seller's asking price of $25 is just above what we found the product for on Amazon, so it's a pretty reasonable ask!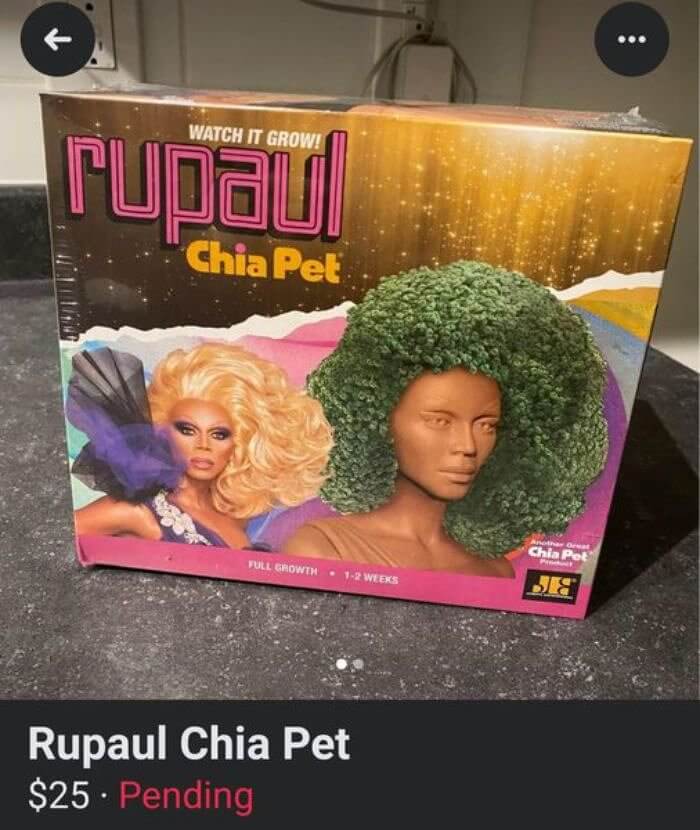 If you have a friend who loves drag and taking care of plants, you have to get them one of these. They're totally going to be like, "Slay!" 
Are You Sure That's How It's Spelled?
There are a few things that really chap us about this picture. First and foremost, the guy got bored with his dart board, and then uploaded it to sell online and called it a dart bored. Spoiler alert, that's not actually a thing. Second of all, what is he doing with those darts? Two UK darts and one US on one side, two US and one UK on the other side, and no extra pieces? This set is a mess!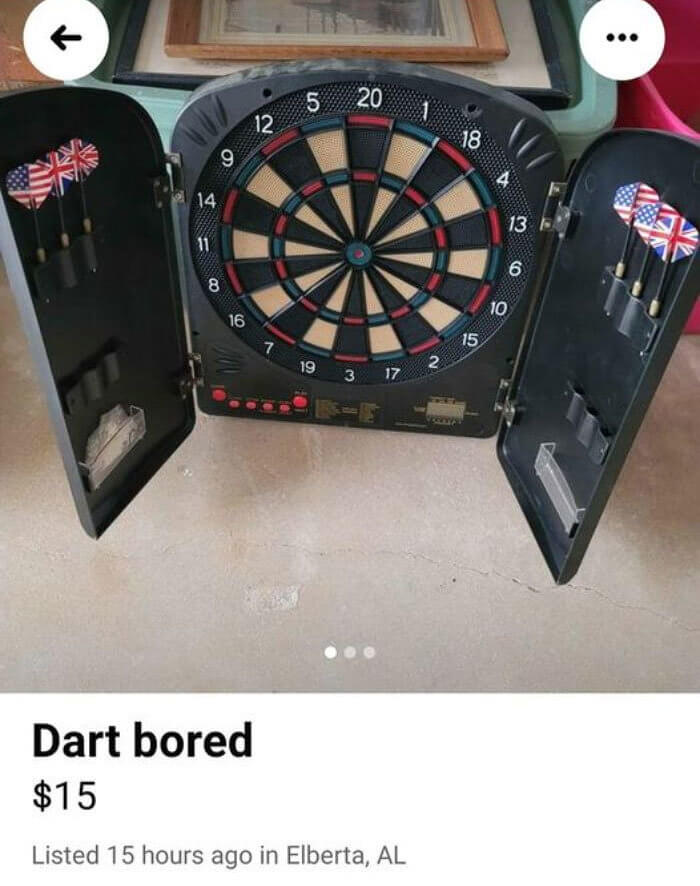 If you're in the market for a dart board, we suggest avoiding models like this one. A standard cork board is going to work much better and last much longer. 
We Wish We Had A Better Explanation
Alright look, we usually are able to explain the pictures we include in these articles, and maybe we all learn something along the way. With this one, we've basically got nothing. There's a man named Nate DeVore, or Nate_MakesStuff on Facebook, who puts weird products together and for some reason, people on the internet buy them. So, for one of his promotions, Devore sold Croc-style shoes, full of beans, and including a rolled-up piece of ham. 

To be fair, depending on the price, this might actually have been a good deal. One left shoe deal, one right show deal, and you've got a pair of kicks, plus two meals! 
Is This Technically Fair Condition?
On the spectrum of grading products, we usually think of great as being the best, good as being below great, and fair as being below good. So, we're having trouble understanding what this seller's actual definition of "fair" is. Because, honestly, those chairs just look straight up bad. Not good, not fair– straight up bad. The pleather has completely peeled off the seat of one, and it's coming off the others to the point that these all belong in a dumpster.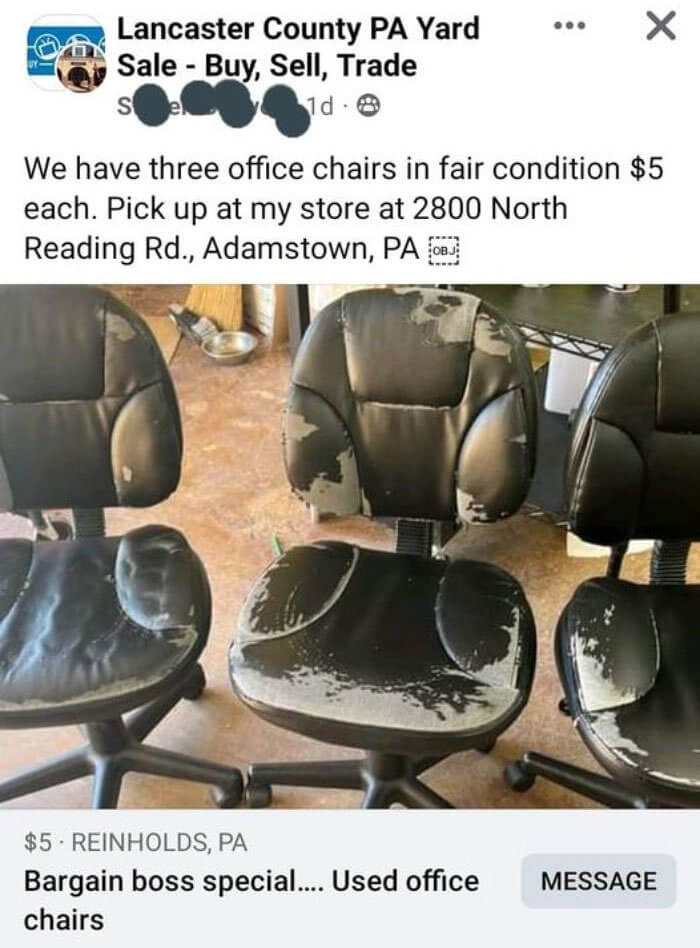 Desperate times call for desperate measures, but we feel like the damage you're going to be doing to yourself in a $5 used desk chair is worse than the cost of splurging on a nice, new chair. 
You Were So, So Close
Sometimes people come up strapped for cash and need to find an inventive way to get by. You can't fault them for trying unconventional methods in these scenarios, but you can laugh (at least just a little bit) if the scheme is as ridiculous as this one is. For some reason, this guy tried to take a regular onion ring, and sell it as a special, onion ring peace symbol worth more than $100.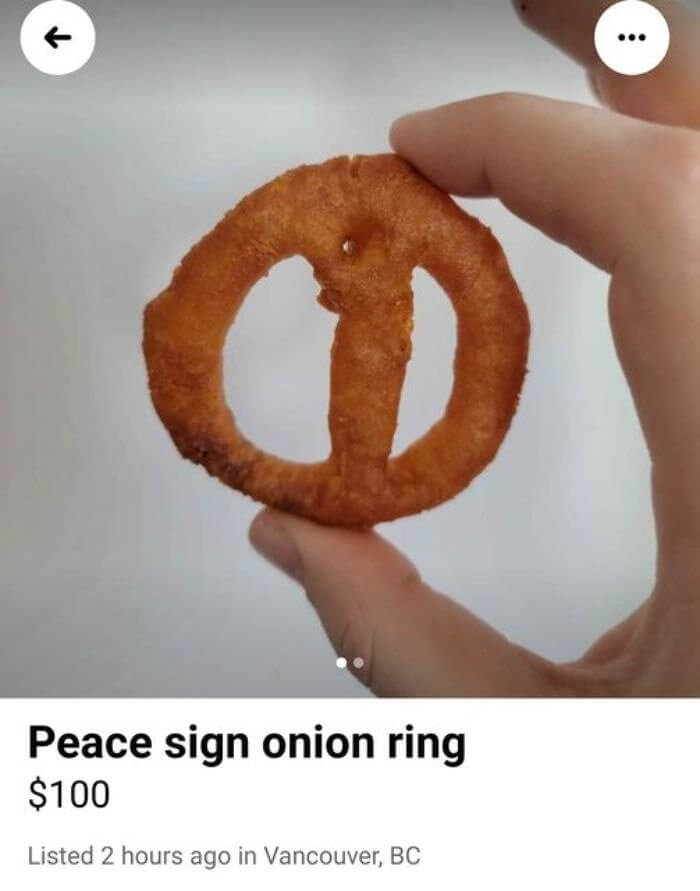 In case you were curious, no, the onion ring did not wind up selling for his asking price. We're pretty sure the thing got moldy before he even got any bids.