This article was originally published on
JustStarz
It's no secret that many people work hard to attain the same looks as iconic celebrities - but imagine being born with them. That's what happened to the lucky kids of these famous moms and dads. Keep reading for a list of stars whose children look strikingly like them at the same age. Did they clone themselves, or is this just a coincidence? You be the judge.
Clint Eastwood & Scott Eastwood – In their 30s
Who isn't familiar with Clint Eastwood - the 89-year-old iconic American actor, filmmaker, musician, and politician? Scott Eastwood is the son of actor Clint Eastwood and flight attendant, Jacelyn Reeves. The photos of Scott clearly show that his facial features are similar to his fathers when Clint was in his 30s. Scott could've opted for another career, but he is continuing his father's legacy by pursuing an acting career.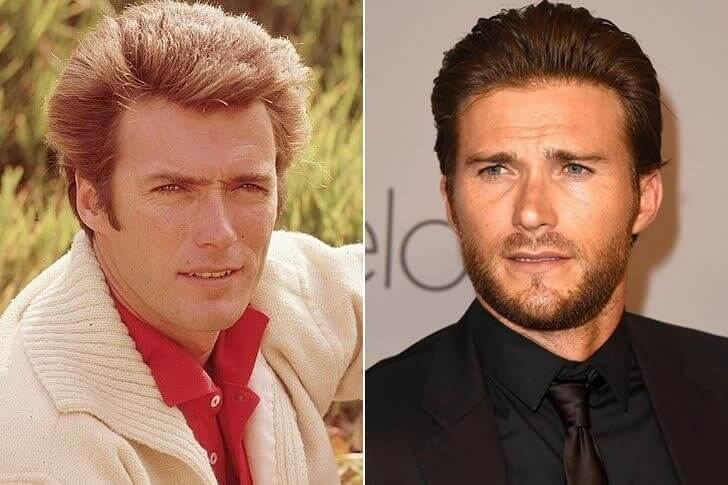 Ever since Scott started his career with a 2006 movie Flags of Our Fathers, he has starred in many movies. To date, his most famous roles are in movies such as Texas Chainsaw Massacre, The Longest Ride, and Pacific Rim: Uprising. Currently, he is starring in a new film, The Outpost.
Blythe Danner and Gwyneth Paltrow – 30s
Gwyneth Paltrow is a world-famous actress known for acting skills and distinctive soft blonde features. Obviously, she has inherited these attractive features from her mother, Blythe Danner.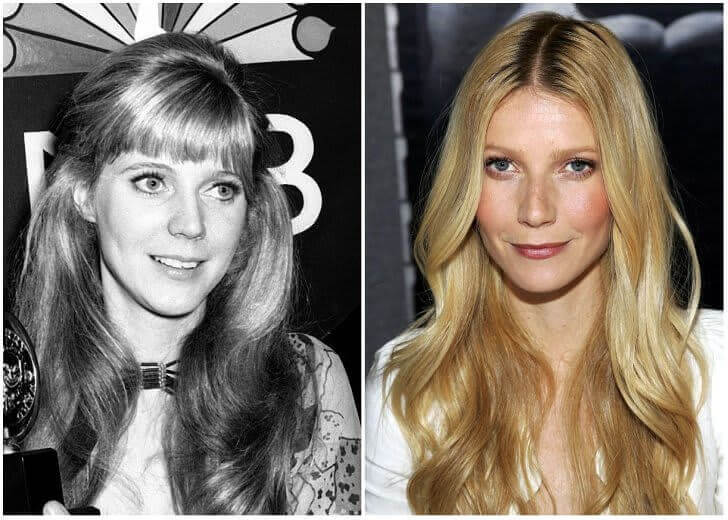 As we look at the Blythe in her 70s, we see a gorgeous woman. So, Gwyneth can rest easy knowing that she will also look as beautiful as her mother when she gets older. By the way, Gwyneth was last seen in the mega-hit movie Avengers: Endgame.
Jerry Stiller & Ben Stiller – 40s
With famous hit movies like Zoolander, Tropic Thunder, and Night at the Museum, Ben Stiller needs no special introduction. Did you know that Ben revealed in 2016 that he was diagnosed with prostate cancer in 2014?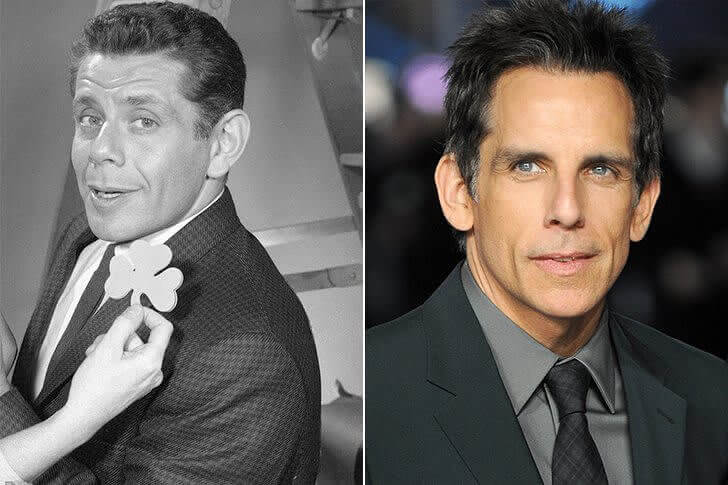 The actor made a full recovery and continues to showcase his unique acting. Ben is the son of famous American comedian, Jerry Stiller - known for his appearances in Seinfeld, King of Queens, and others.
Reese Witherspoon & Ava Elizabeth Phillippe - Age 18
This mother-daughter duo is hard to tell apart. Reese Witherspoon's daughter Ava Elizabeth is almost a clone of her mother.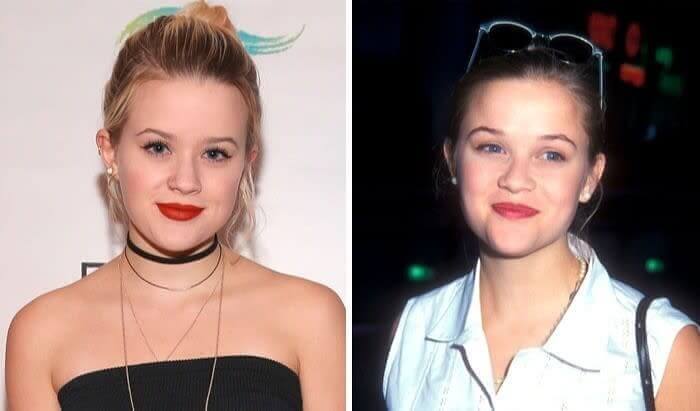 The American actress has won an Academy Award for her work. Her daughter decided to take up photography and scultpting rather than acting. 
John Lennon & Sean Lennon - Age 31
Here comes the son of John Lennon and Yoko Ono. He is the only child of this couple. We all remember John Lennon from his years singing as one of "The Beatles".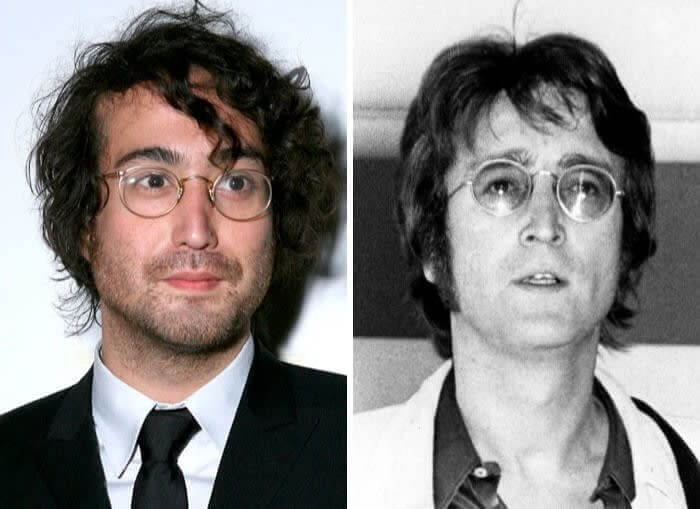 His son, Sean, followed in the singers footsteps and became a singer and songwriter as well. He even wears similar round glasses like his fathers iconic pair. 
Goldie Hawn and Kate Hudson – Mid-20s
We all know that the beautiful and cute Kate Hudson is the daughter of famous veteran actress Goldie Hawn. Just like her mother, Kate decided to start acting and was nominated for the Academy Award for Best Supporting Actress in the film Almost Famous.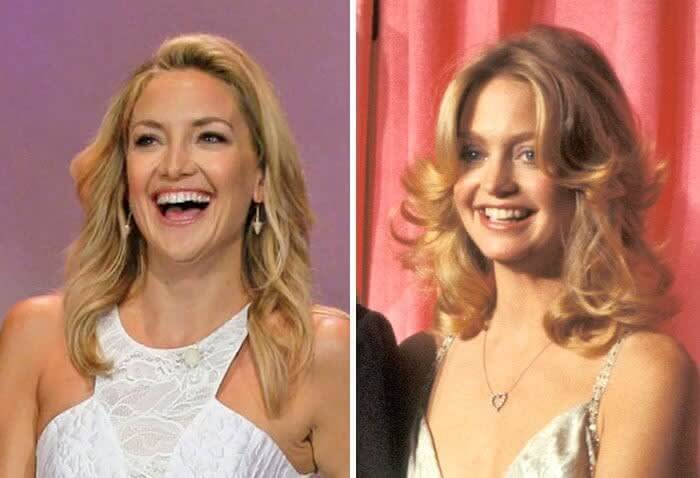 It is common knowledge that Kate looks like her mother when she was at the peak of her career. We can't argue with this one.
Kris Jenner & Kendall Jenner – Early 20s
Kendall Jenner is a renowned name in the modeling industry and has a net worth of $18 million as of 2019. Born on November 3, 1995, she is the daughter of Kris Jenner and Caitlyn (formally Bruce) Jenner.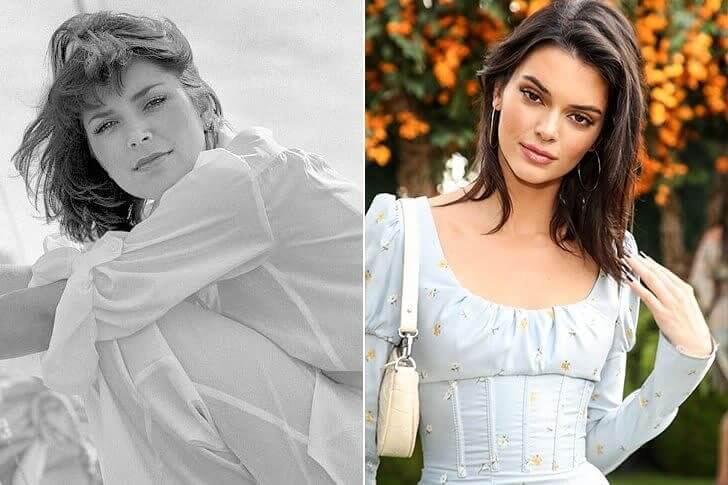 Kendall is part of what Vogue calls "The Instagirl Era." Kris also appears on the Keeping Up with the Kardashians show and has over $60 million in her bank account.
Angelina Jolie and Vivienne Marcheline Jolie-Pitt – Childhood
Angelina Jolie is an actress that is equally attractive and talented. As she is also known for her humanitarian work, most of her children are adopted. However, three of her children are biological ones with her ex-husband Brad Pitt.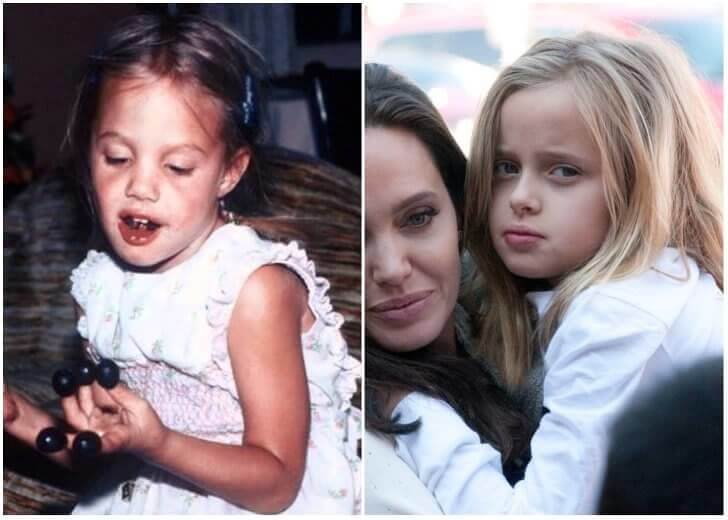 Interestingly, her youngest daughter, Vivienne Marcheline Jolie-Pitt, is the spitting image of her mother. She has also starred opposite her mother in Maleficent.
David Beckham and Brooklyn Beckham – Late teens
If you look for some of the best soccer players of all time, you'll definitely find David Beckham on the list. His eldest son, Brooklyn Beckham, looks a lot like his father, and it automatically means that he is super-hot.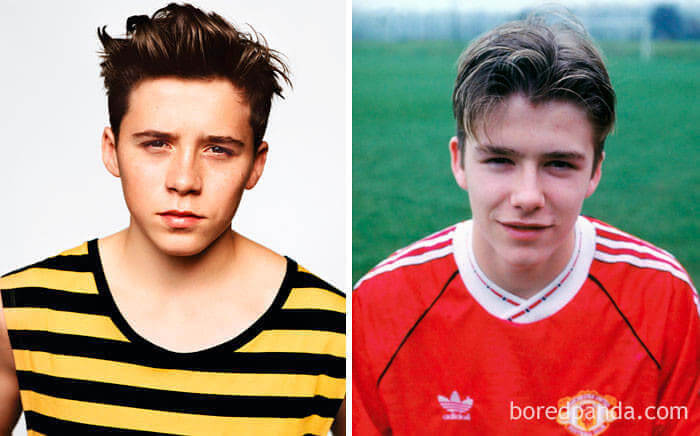 It seems quite certain that he won't be following his father's footsteps because he has a passion for photography.
Kate Moss & Lila Grace Moss – Teens
Kate Moss is a name in the world of fashion that needs no introduction. She began her career in 1988 when she was only 14-year-old. Sarah Doukas found her at JFK airport, and it didn't take long for her to become famous and one of the most well-known supermodels.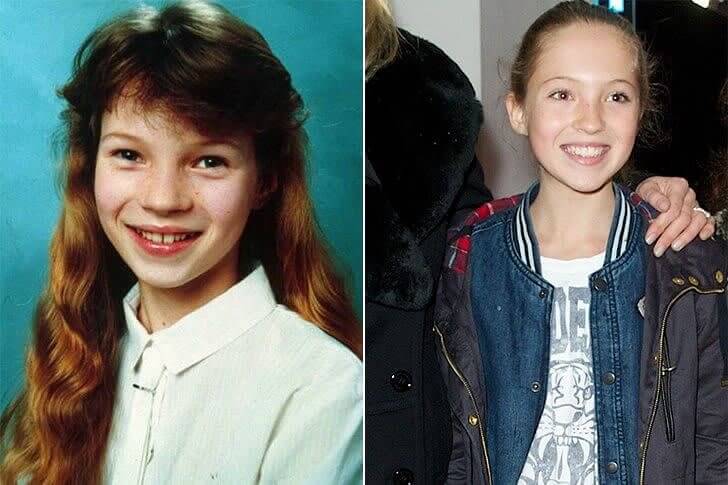 Her daughter, Lila Grace Moss, was born in 2002 and has starred in a short movie titled Love. Lila has kept her life private, and it is unclear whether she will have a career in acting or modeling or something else.
Uma Thurman and Maya Hawke – In Their Teens
Before the unfortunate divorce of Uma Thurman and Ethan Hawke, they were considered one of the most powerful couples of Hollywood.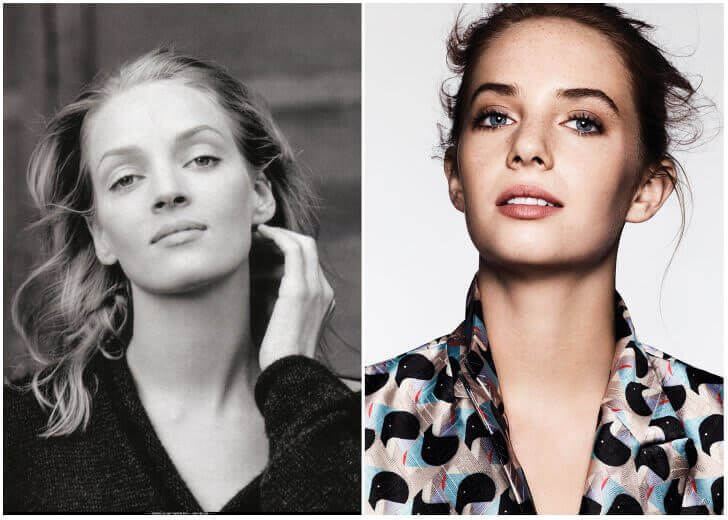 Their daughter, Maya Hawke, has grown up now and looks very much like her mother. She has shown her acting talent with roles in Little Women and Stranger Things.
Kim Basinger and Ireland Baldwin – In Their 20s
Although the marriage of actor Alec Baldwin and actress Kim Basinger ended in divorce, it doesn't mean that they haven't produced gorgeous offspring.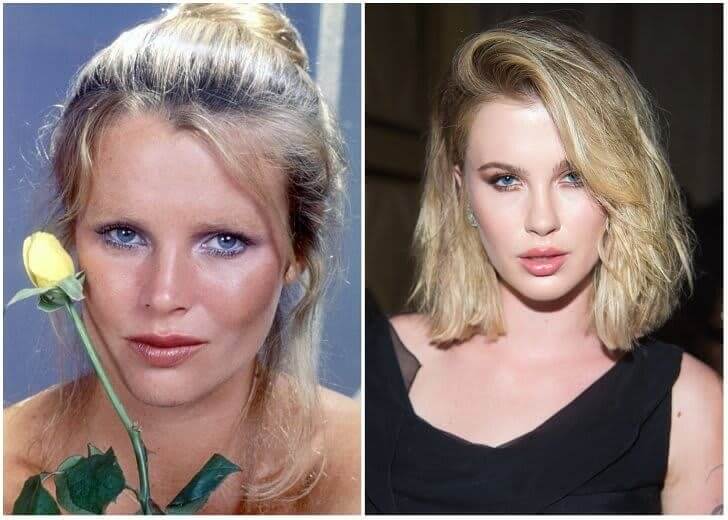 If you haven't heard of their daughter Ireland Baldwin, you will very soon enough. Ireland is a model and an aspiring actress. If you look at her, you'll feel super happy to find out that she has inherited her mother's classic blonde looks.
Prince Charles & Prince Harry – Early 20s
Prince Harry is a member of the British Royal family. He was Prince until he married Meghan Markle in 2018. Their wedding received worldwide media attention and was celebrated all over the world. He is the son of Charles, Prince of Wales and the late Princess Diana.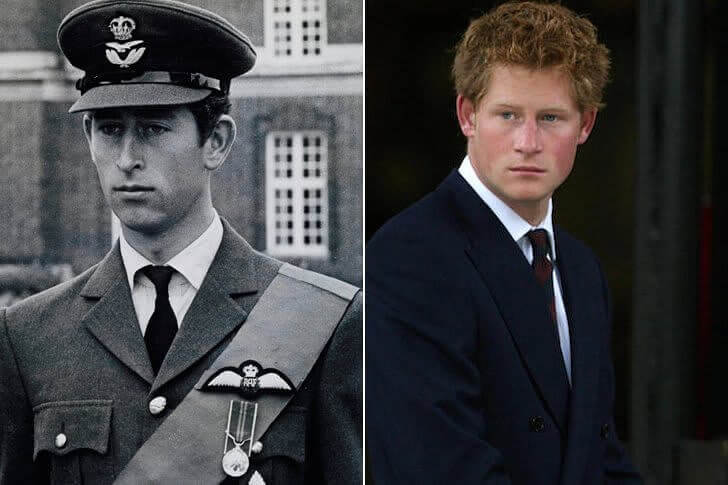 Prince Charles is actually the longest-serving British throne heir. He has written, narrated, and illustrated several dozen books in his life.
Duchess Catherine & Princess Charlotte – Preschooler
Kate Middleton (Katherine, Duchess of Cambridge) is a member of the Royal Family. She is married to Prince William, the Duke of Cambridge.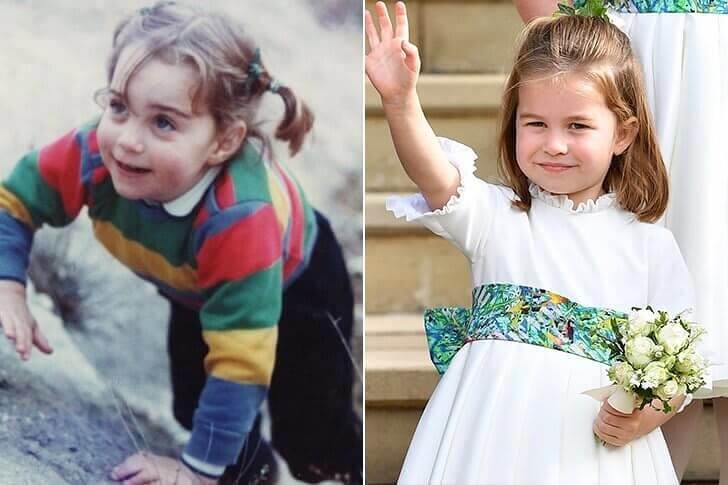 As William is next in line of succession to the British Throne, it will make Kate the Queen when the time comes. She is known for her charity work. Princess Charlotte is the second child of William and Kate. She was born on May 3, 2015.
Steven Tyler and Liv Tyler – In their 30s
Liv Tyler was just nine years old when she found out that Steven Tyler (the rock star) was her father.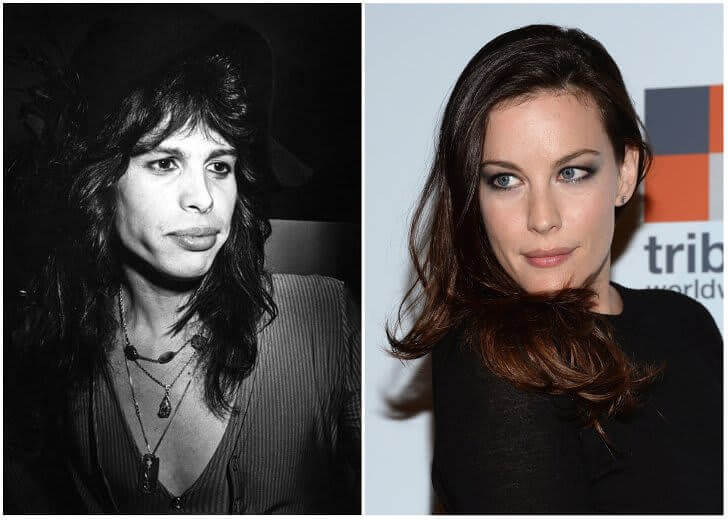 If you look at both father and daughter, you can find some uncanny resemblance. Through the years, they developed a close father-daughter bond.
Minnie Ripperton & Maya Rudolph – 20s
Maya Rudolph worked very hard to become a master of impressions, and we love her a lot. She is the daughter of Minnie Ripperton, a well-known singer and songwriter from the '60s and the '70s. Minnie made a name for herself with some remarkable performances such as Lovin' You, her whistle register, and coloratura soprano.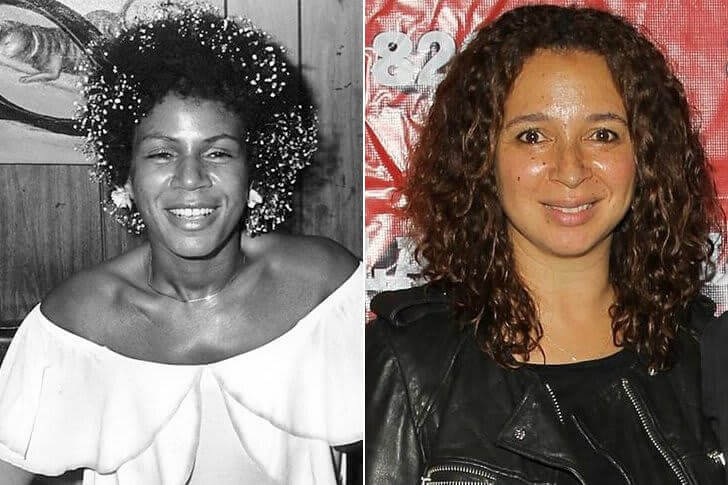 Did you know that Minnie was even dubbed as the Queen of the Whistle Register? She passed away in 1979, leaving behind two children (Maya is the youngest child). Just like Minnie, her daughter also got into singing and then into voice acting, acting, and comedy. Maya is known for her roles in hit movies such as Bridesmaids, Shrek the Third, Big Hero 6, and The Good Place.
Meryl Streep and Mamie Gummer – Early 30s
Meryl Streep is considered to be the "best actress of her generation," and you can't argue with it as she has been nominated for a record 21 Academy Awards and won 3 times.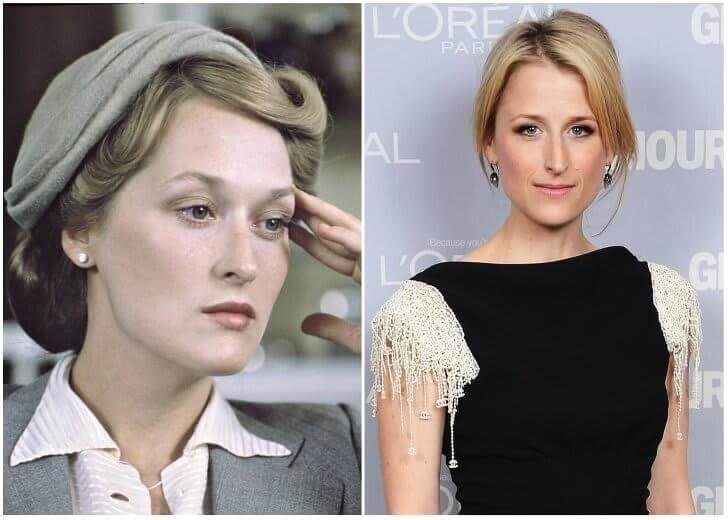 Her daughter, Mamie Gummer, is also following her mother's footsteps. So, it won't be wrong to say that Mamie still has a long way to go, but she is trying her best. The good news is that there is always her mother ensuring that she's on the right track.
Jada Pinkett & Willow Smith – Teens
Jada Pinkett rose to prominence with her role in The Nutty Professor. She has also showcased her acting and voiceover skills in films such as The Matrix franchise, Bad Moms, and the Madagascar movies.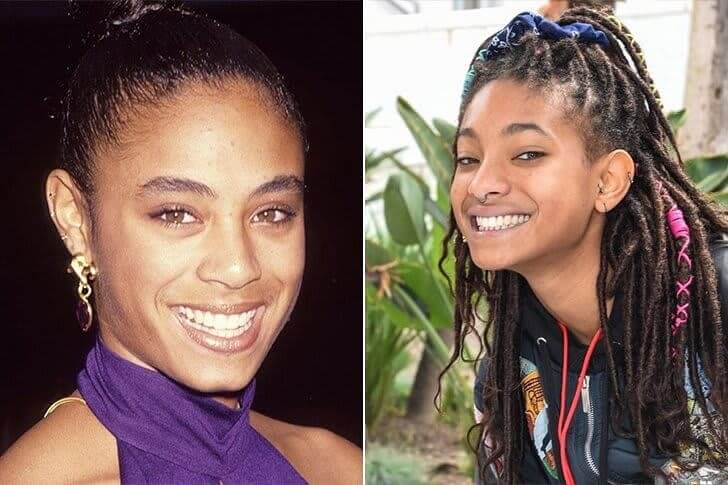 Jada and famous actor Will Smith married in 1997, and their daughter Willow Smith was born in 2000. She made her acting debut in I Am Legend and has also been successful in singing and acting. Her hits include Whip My Hair, 21st Century Girl, and others.
Stellan Skarsgård and Alexander Skarsgård – 30s
Alexander Skarsgård is considered one of the hottest Hollywood actors. It's not his looks that make him famous; it is his acting as well. He is following the footsteps of his renowned father, Stellan Skarsgård, who was also quite handsome in his time.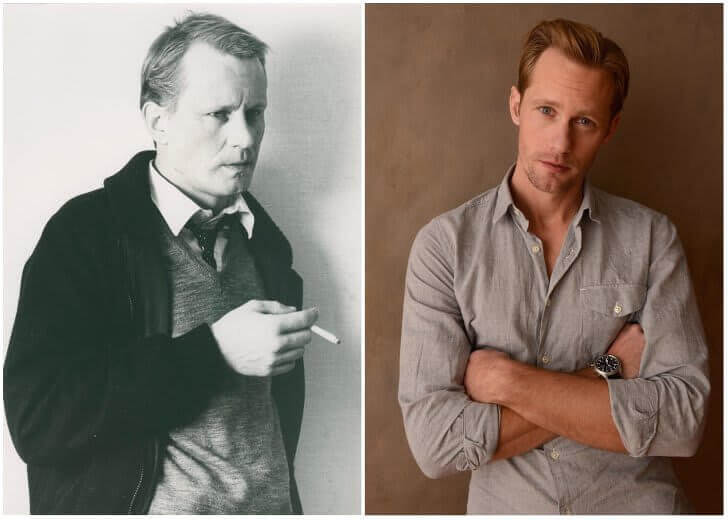 The talent runs in the family as Alexander's brothers have also starred in various movies, especially Bill Skarsgård in horror movie It (2017).
Peggy Lipton & Rashida Jones – Late 20s
Peggy was a model and actress who remained active since 1965. Sadly, she passed away on May 11, 2019. She played many notable roles in her career, such as in David Lynch's Twin Peaks.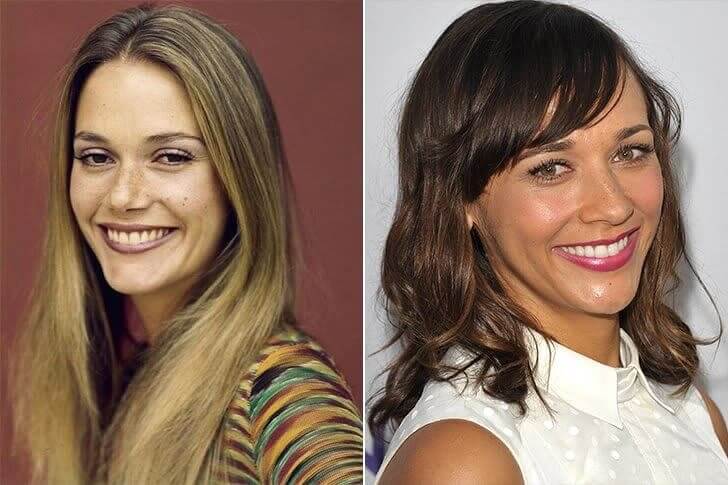 Her daughter, Rashida Jones, has made a name for herself in the industry with hit roles on Parks and Recreation, The Social Network, The Muppets¸Celeste and Jesse Forever, and Angie Tribeca. Rashida's father, Quincy Jones, was a famous American music producer and she co-wrote and co-produced Quincy (a documentary about her father) in 2018.
Christie Brinkley & Sailor Brinkley – Between 18 & 20
Modeling and acting work has helped Christine Brinkley gain worldwide fame. She first rose to prominence with her Sports Illustrated Swimsuit Issues cover appearances throughout the '70s and for 25 years she remained the face of cosmetics brand CoverGirl.
Many top magazines have called her one of the most attractive women ever. She had assets of $250 million by 2018. Among her three children, Sailor was born in 1998 and she is also following the footsteps of her mother. She was also seen in 2018's Sports Illustrated Issue.
Damon Wayans & Damon Wayans Jr. – 30s
Damon Wayans is a famous stand-up comedian and actor who enjoyed immense popularity in the '80s. He was on Night Live, the Lethal Weapon TV series, Major Payne, and The Last Boy Scout.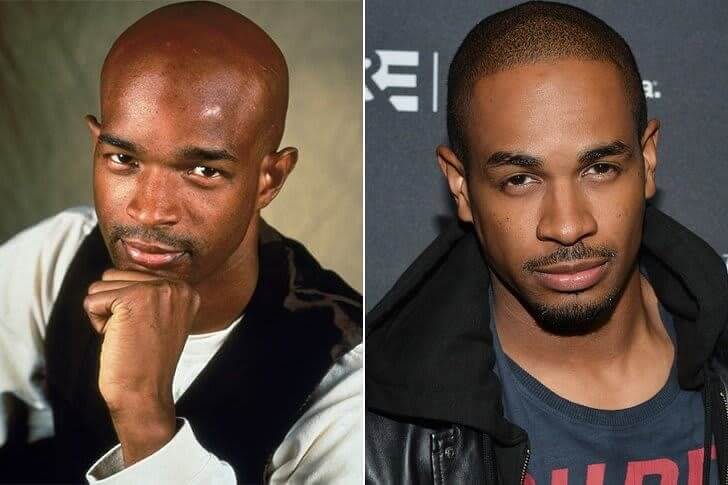 Most of us know the successful actor, comedian, and writer Damon Wayans Jr. as Brad Williams from the sitcom Happy Endings. He even won the Critic's Choice Award for his role. His son, Damon Jr., starred in New Girl, Let's Be Cops, and on Big Hero 6 (he voiced Wasabi in it).
Kirk Douglas and Michael Douglas – In their 30s
The legendary actor Kirk Douglas is 102 years old and is enjoying his retirement to the fullest. The great thing is that his Hollywood legacy continues to live on in the shape of his son and grandchildren.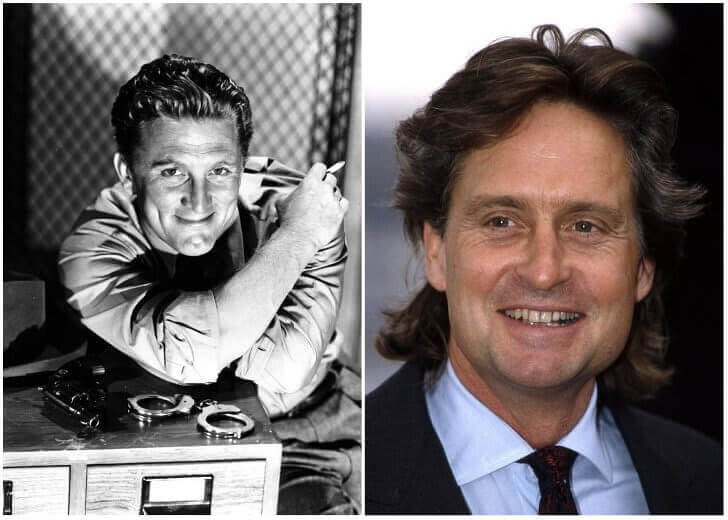 His son, Michael Douglas, is considered one of the most respected and highly paid actors in the industry. If we look at the images of both father and son (in their 30s), we notice some striking resemblance.
Tom Hanks and Colin Hanks – In their 20s
We can all agree on one thing that Tom Hanks needs no introduction at all – his name is enough. His son, Colin Hanks, has also made a name for himself in the industry as well and is enjoying a successful career in Hollywood.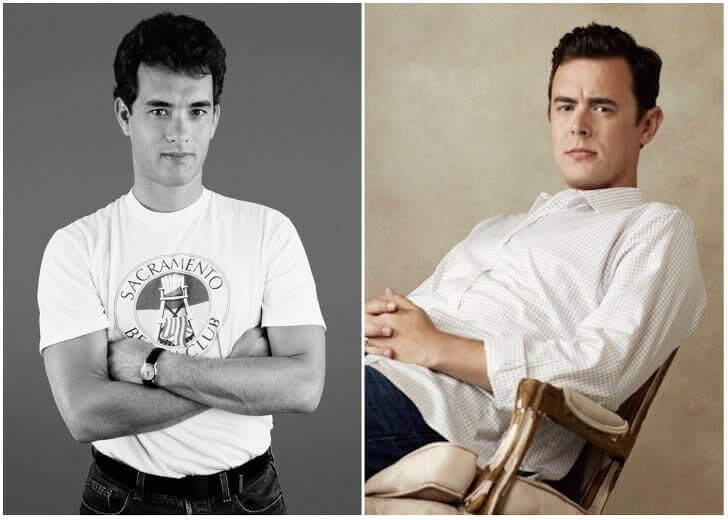 If you look at any of Collin's work, it will bring back the memories of younger Tom Hanks. Let's hope Collin wins Oscars for his performances just like his father (who has won two Oscars in consecutive years).
Charles Delevinge & Cara Delevinge – 20s
Cara left school in 2009 and went on to make a name for herself with her modeling, acting, and singing performances. Her first roles include Paper Towns and London Fields.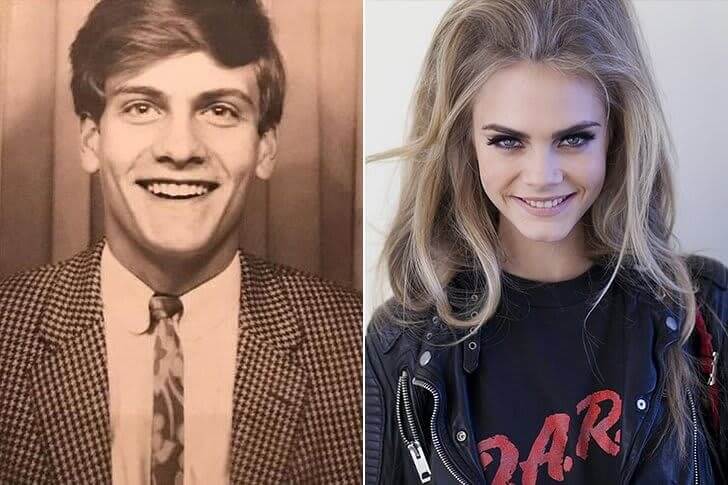 Her fame grew when she played the role of Enchantress in Suicide Squad and Laureline in Valerian and the City of a Thousand Planets. She is the daughter of Charles Delevingne, a property developer. He is also the director of The Ultimate Travel Company.
Mandy Teefey & Selena Gomez – Teens
Mandy Teefey gained many fans when she produced The Ant Bully, 13 Reasons Why, Lucky Lance 6, and others. She has been married twice and Selena Gomez is her eldest child.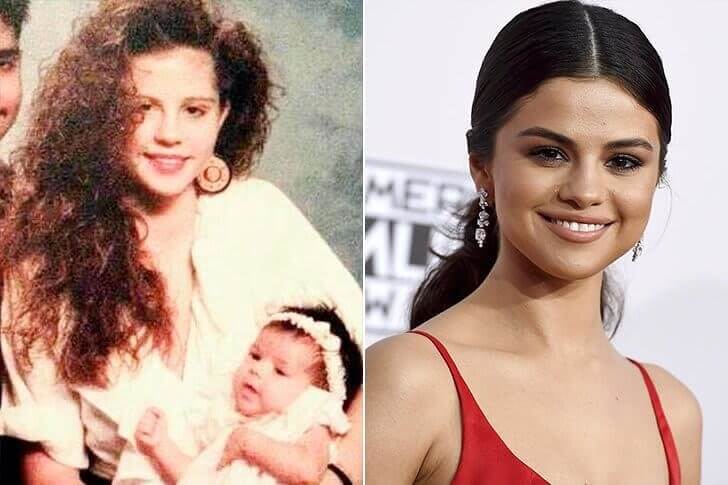 Selena has a quite prolific career as an actor and singer. She has starred in tv-series and movies such as Wizards of Waverly Place, Another Cinderella Story, Spring Breakers, and Getaway. As of 2019, Selena's net worth is $60 million.
Yolanda Foster and Gigi Hadid – Late teens
People from all over the world recognize Gigi Hadid as the hot & sexy supermodel, but not many people know that her mom, Yolanda Foster, was also a big hit back in the day.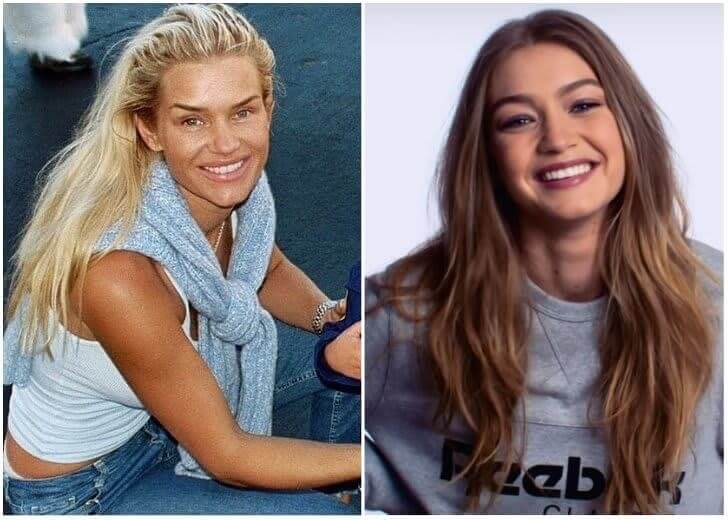 After looking at Yolanda, it is no surprise that Gigi has inherited her mother's good looks.
Brian Williams & Allison Williams – Late 20s
Brian Williams is known to a broader audience, the presenter of news program The 11th Hour. He anchored the NBC Nightly News as well, but he was demoted in 2015 when he misrepresented the Iraq War events.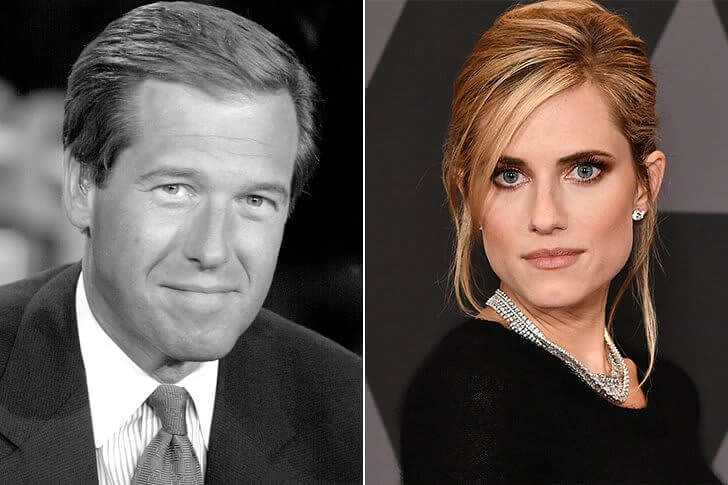 His daughter, Allison Williams, is an actress, comedian, and singer. She is known for her roles in Girls, Get Out, Jake and Amir, Peter Pan Live!, A Series of Unfortunate Events, and more.
Jon Voight and Angelina Jolie – In their 40s
Actor Jon Voight (winner of four Golden Globes) and his daughter Angelina Jolie have a rather inconsistent relationship throughout these years. When they reconciled, it was widely reported.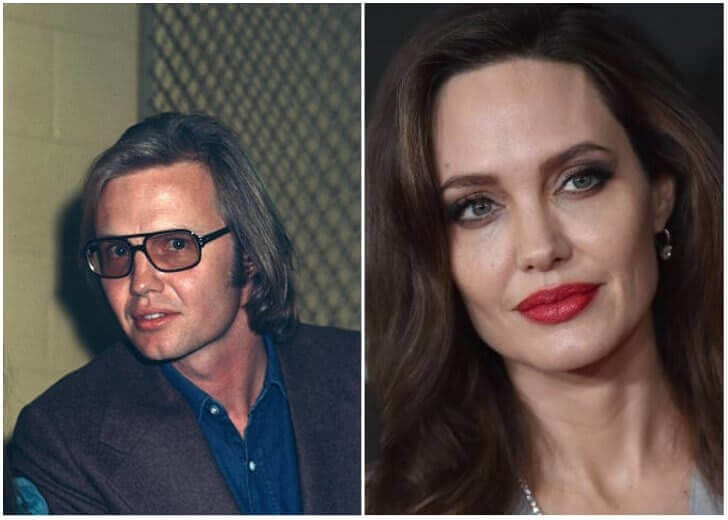 Although they have an unstable father-daughter relationship, one cannot neglect the fact that both of them have successful careers, large bank accounts, and similar physical features.
Mel Gibson & Milo Gibson – 20s
Mel Gibson is a famous actor and filmmaker who is known for roles in Lethal Weapon movie series and Mad Max. He won an Oscar for his fantastic acting in the movie Braveheart. As a director, he has received widespread critical acclaim for his works that include Apocalypto and The Passion of the Christ.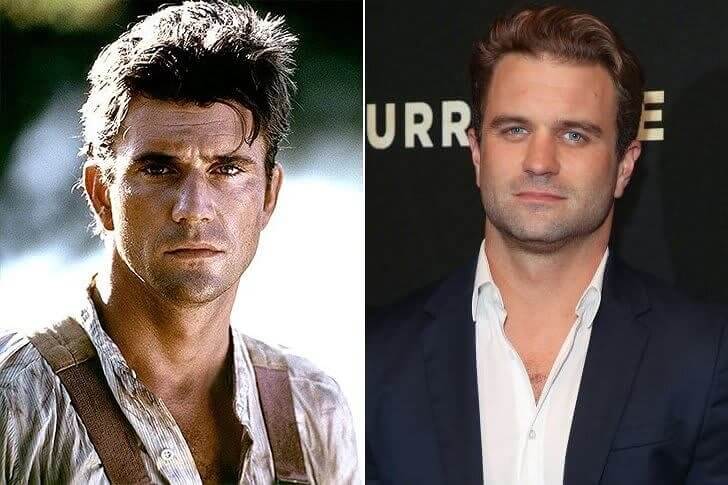 It is estimated that his net worth is around $425 million. He has nine children, and Milo (born in 1990) is one of them. Milo is also an actor like his dad and has worked in projects such as Hacksaw Ridge, All the Devil's Men, Breaking & Exiting, and a lot more.
Faith Hill and Maggie McGraw – Late teens
Maggie McGraw has walked most of her life on the red carpet alongside her famous parents, country singers Tim McGraw and Faith Hill.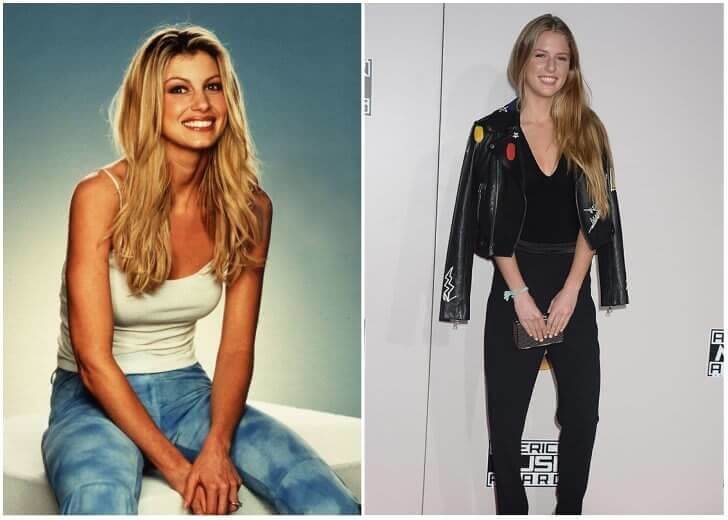 As a teen, Maggie is currently studying to earn her university degree from Stanford. She has inherited her mother's classic blonde looks and if she ever decides to enter the show business, she won't find much difficulty in it.
Robert Pine & Chris Pine – Early 30s
We all know Chris Pine as the handsome, blue-eyed hottie. He has played roles in films like The Princess Diaries 2: Royal Engagement, Into the Woods, The Star Trek movie reboots, and Jack Ryan: Shadow Recruit, and of course, Wonder Woman.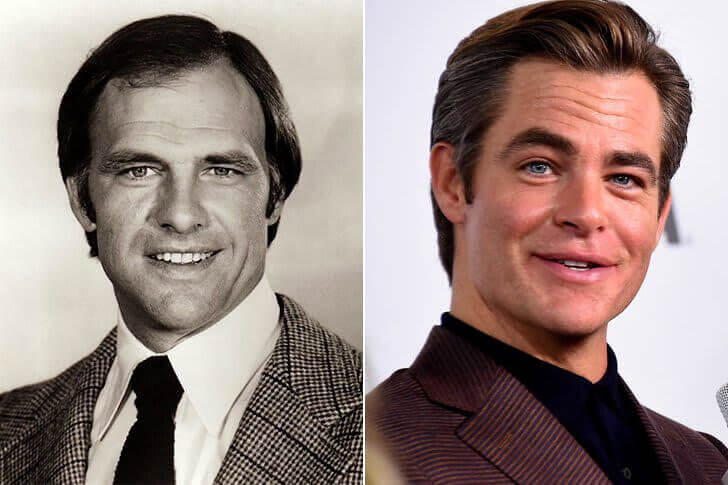 He is the son of Robert Pine, a former actor known for CHiPs (a crime TV show). Robert has appeared in films such as The Wild Wild West, Knight Rider, Lost in Space, Star Trek: Voyager, and Star Trek: Enterprise.
Melanie Griffith and Dakota Johnson – Mid-20s
There is no denying that Dakota Johnson is one of Hollywood's most successful young actresses, and we can say for sure that she inherited good looks from her mother who enjoyed the same distinction back in the day.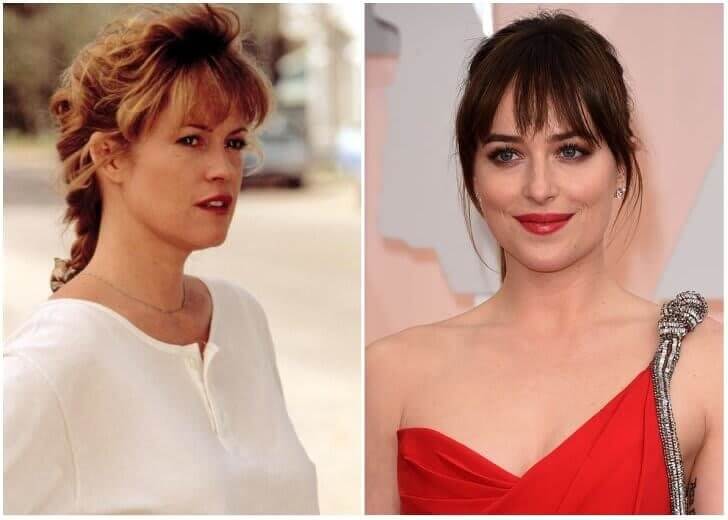 Melanie Griffith inherited her attractive looks from her mother, Tipp Hedren. So, it won't be wrong to say that talent and beauty run in the family.
Martin Sheen & Charlie Sheen – 20s
Martin Sheen is the father of well-known actor Charlie Sheen (who, of course, needs no introduction). Martin has worked with prominent directors like Martin Scorsese, Ford Coppola, and Terrence Malick and starred in films like The Subject Was Roses, The West Wing, Badlands, and Apocalypse Now.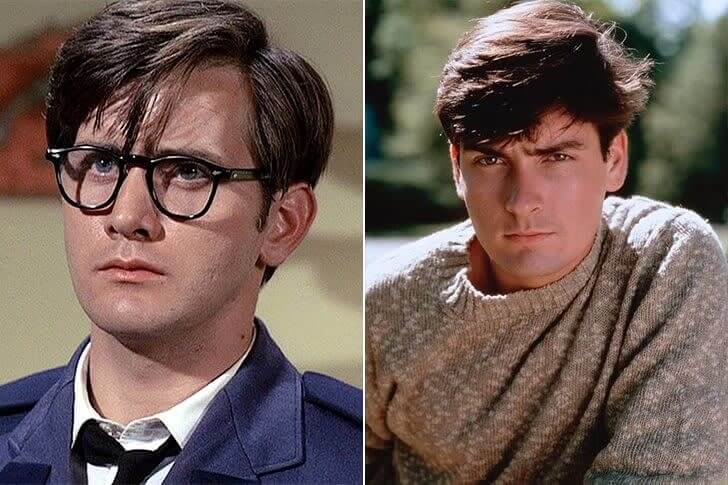 His son, Charlie, made a name for himself with hit roles in movies like Platoon, Wall Street, Young Guns, Major League, Hot Shots!, The Three Musketeers, and others. What took him to new heights of popularity was his role in Two and a Half Men.
Nancy Kerrigan & Matthew Eric Solomon – 30s
Nancy Kerrigan is a well-known name in figure skating and the film industry. She won many medals at the Olympics in the early '90s and was the US National Figure Skating Champion in 1993. After Nancy retired in 1994, she started working in the TV industry and served as a correspondent for The Inside Edition during the Super Bowl in 2018.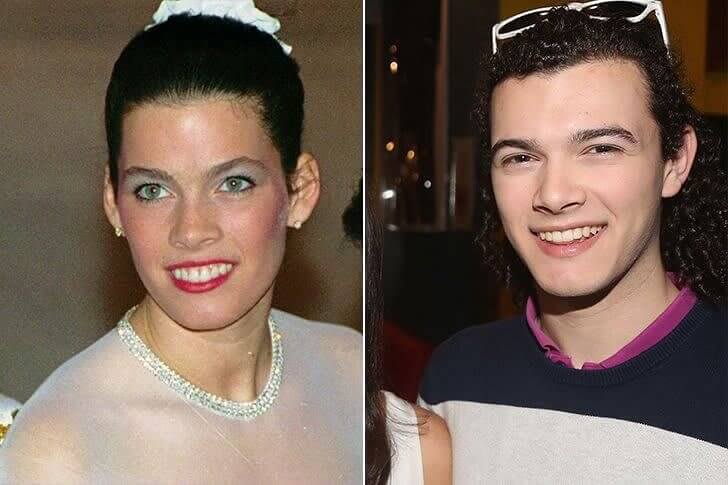 Her eldest son, Matthew Eric Solomon, is a costume designer and majorly works in stage productions in Massachusetts.
Janet Leigh and Jamie Lee Curtis – In their 20s
Janet Leigh is known for her iconic role in Hitchcock's Psycho, which helped her become the undisputed queen of thriller films.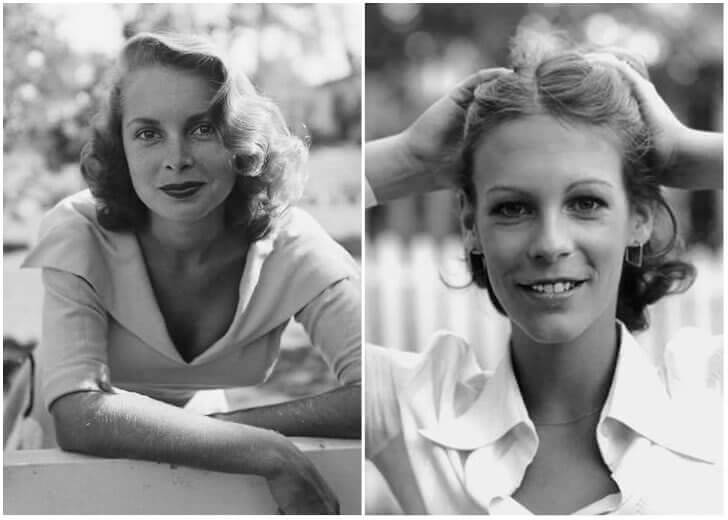 Her daughter, Jamie Lee Curtis, not only inherited the attractive looks of her mother but also worked in some popular slasher films throughout the 80s and 90s.
Andie MacDowell & Rainey Qualley – 20s
Andie MacDowell had been known for her roles since the '80s. Ever since her debut in Greystoke: The Legend of Tarzan, she has starred in movies such as Four Weddings and a Funeral, Michael, Multiplicity, Beauty Shop, and the 2011 remake of Footloose.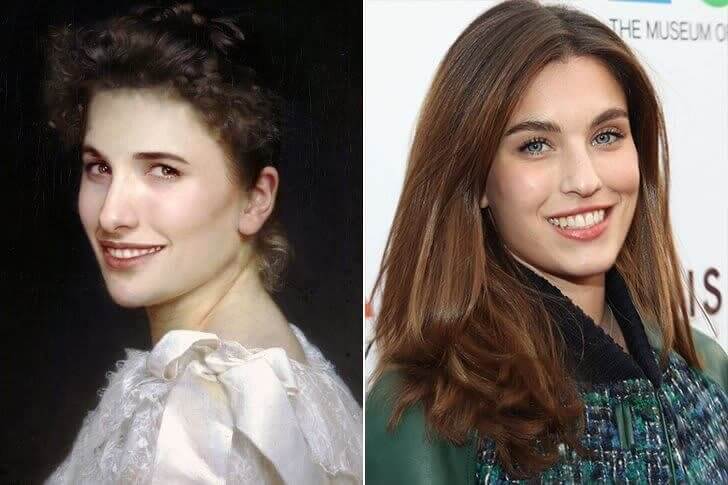 Andie has three children, and Rainey is her middle child (born in 1990). Just like her mother, Rainey has also started acting as her career and has done films like Perfect, Mighty Fine, and Ocean's Eight (cameo).
Naomi Judd and Ashley Judd – Late 30s
Ashley Judd was a huge deal in the 90s and early 2000s. Not many people know that she comes from a family of entertainers. She is the daughter of country singer Naomi Judd.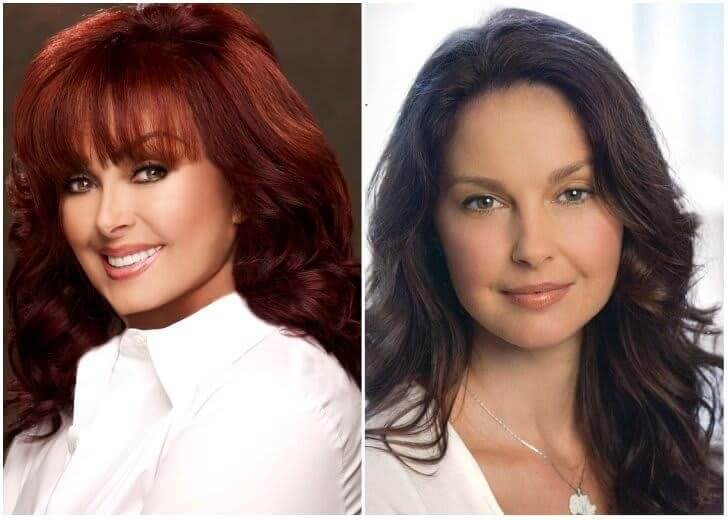 Although Ashley did not inherit her mother's musical gene, she did inherit the facial features that helped with
her acting career.
Mick Jagger & Georgia May Jagger – 20s
Mick Jagger is considered a rock and roll icon. He is the founding member and lead singer of The Rolling Stones. Did you know that he was an actor before he tried his luck in singing? He worked in movies such as Performance, Ned Kelly, and Sympathy for the Devil.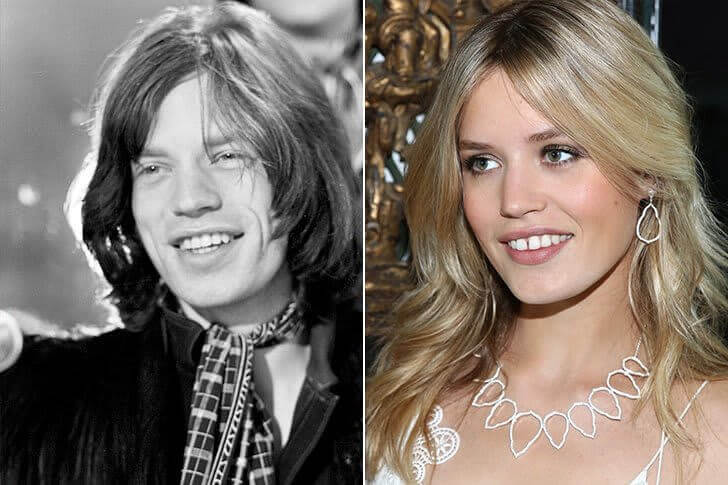 His recent project was The Burnt Orange Heresy in 2018. Georgia May Jagger is Mick's daughter. She is a fashion designer and has modeled for some big names such as Versace, Miu Miu, Chanel, and Vivienne Westwood.
Denzel Washington & John David Washington – Early 30s
Denzel Washington has received critical acclaim for many of his works in movies such as Cry Freedom, Malcolm X, Remember the Titans, Glory, and Training Day.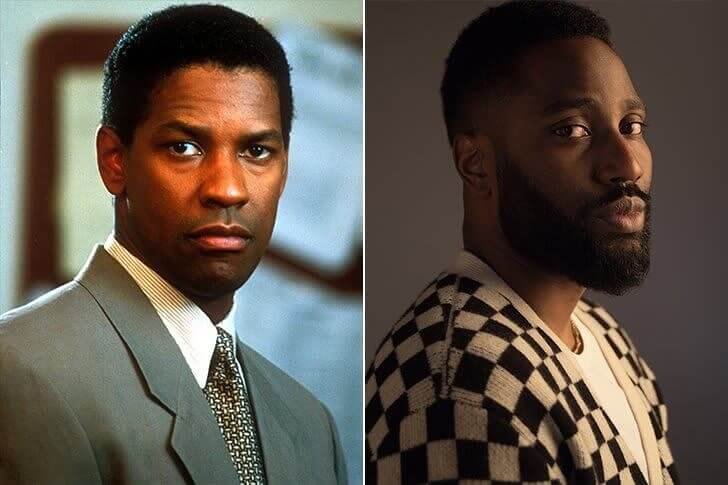 John David Washington (former NFL running back) is the son of two times Oscar winner Denzel. John is also an actor and has appeared in movies such as BlacKkKlansman, Monster, The Old Man & the Gun, and Monsters and Men.
Anthony Perkins & Oz Perkins – 30s
Anthony Perkins was an Oscar nominee actor who became well-known after his iconic role on Alfred Hitchcock's movie Psycho. He then went on to star in films such as Fear Strikes Out, The Matchmaker, The Trial, Murder on the Orient Express, The Black Hole, and Crimes of Passion. Due to complications from AIDS, he died in 1992; leaving behind two sons, Oz and Elvis.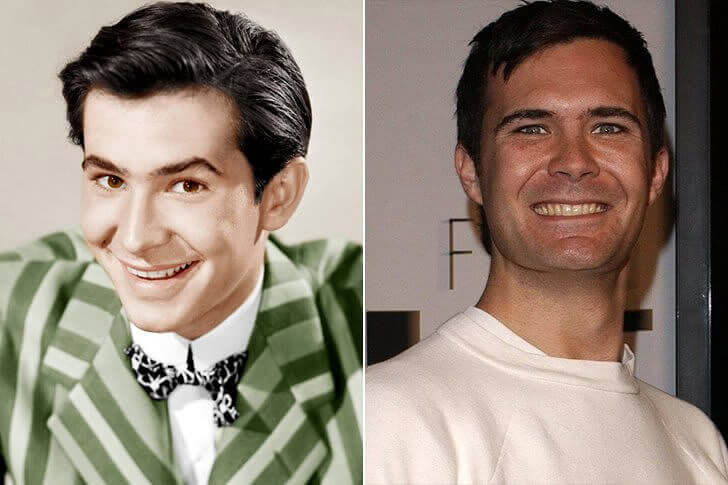 Oz was born in 1974 and he followed his father's footsteps and even starred in Psycho II. He was also in movies, such as Six Degrees of Separation, Legally Blonde, and others.
Carrie Fisher and Billie Lourd – Early 20s
The late Carrie Fisher was known for playing Princess Leia in the Star Wars films and she looked a lot like her mother, Debbie Reynolds.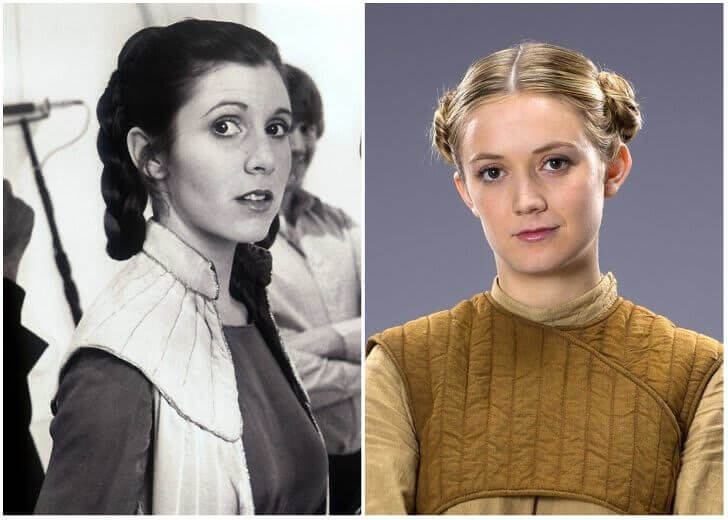 Carrie's daughter, Billie Lourd is also following in her mother's footsteps and looks very much like Carrie as well. Today, Billie is one of the most sought-after rising stars of Hollywood. She has played roles in Scream Queens, American Horror Story, and Star Wars sequel trilogy.
Lisa Bonet and Zoë Kravitz – In Their 20s
Actress Zoë Kravitz is no longer identified as just the daughter of her famous parents, rocker Lenny Kravitz and actress Lisa Bonet, because of her hit and acclaimed roles in numerous films.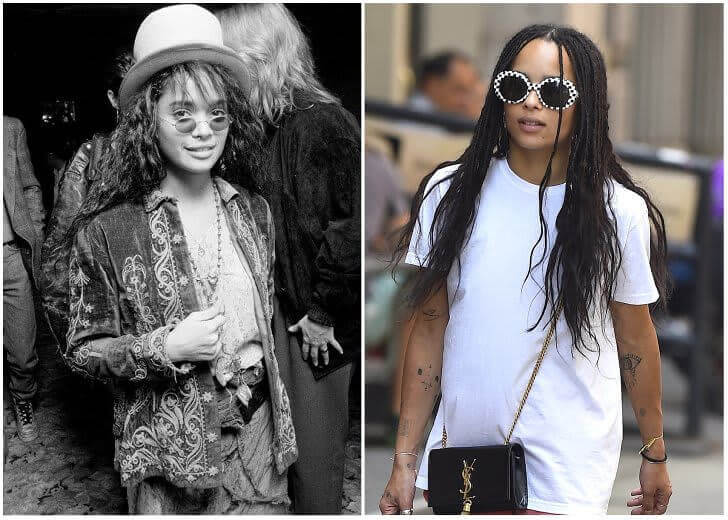 However, it seems like Zoë favors her mother in a lot of ways, and she also has the same looks and style similar to her mother.
Dustin Hoffman & Jake Hoffman – 30s
We all know and love Dustin Hoffman. He is a legendary actor and a winner of two Oscars for his roles in Rain Man and Kramer vs. Kramer, along with numerous other awards.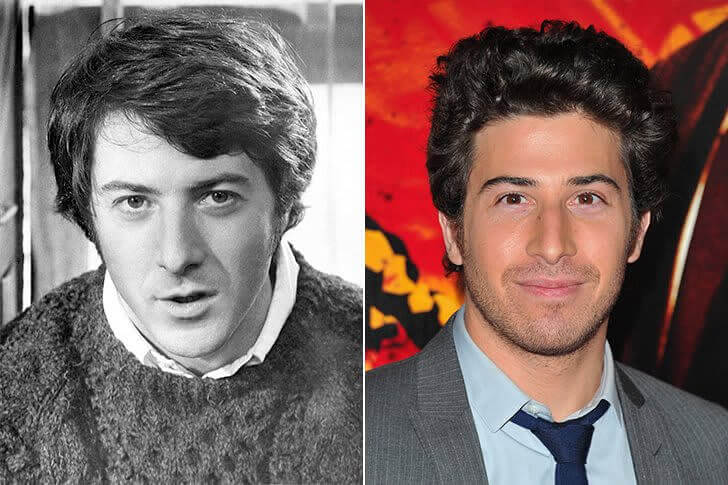 Jake Hoffman was born in 1981 to Dustin Hoffman and Lisa Hoffman. He is an actor, writer, and director and has played roles in movies like The Wolf of Wall Street and Ray Donovan.
Susan Sarandon & Eva Amurri Martino – Late 20s
With a successful career of over 50 years, Susan Sarandon is a well-known name all over the world. She has won an Oscar for her role on Dead Man Walking and was nominated for an Oscar for Atlantic City, The Client, Thelma & Louise, and Lorenzo's Oil and recently in the Ray Donovan TV series.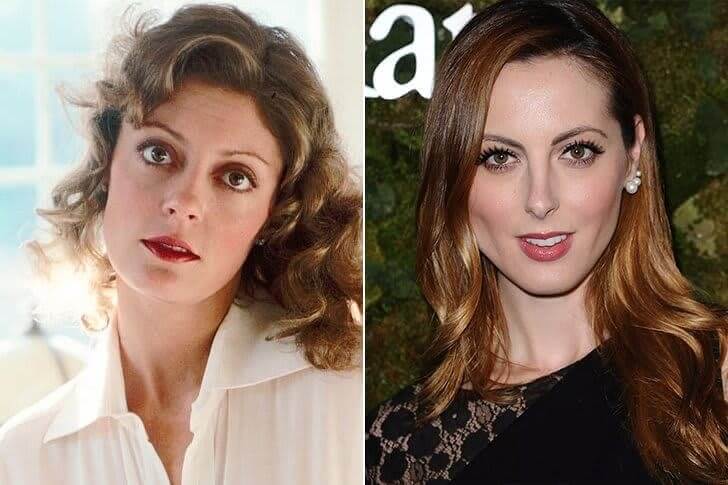 She has three children. Eva Amurri (born in 1985) is the eldest. She is also a movie and TV actress and has played roles in Saved!, That's My Boy, The Banger Sisters, and Middle of Nowhere.
Heather Locklear & Ava Sambora – Early 20s
Heather Locklear is known for her portrayal in the original Dynasty series. She has also played roles in Melrose Place, Hot in Cleveland, Money Talks, Franklin & Bash, and The Perfect Man.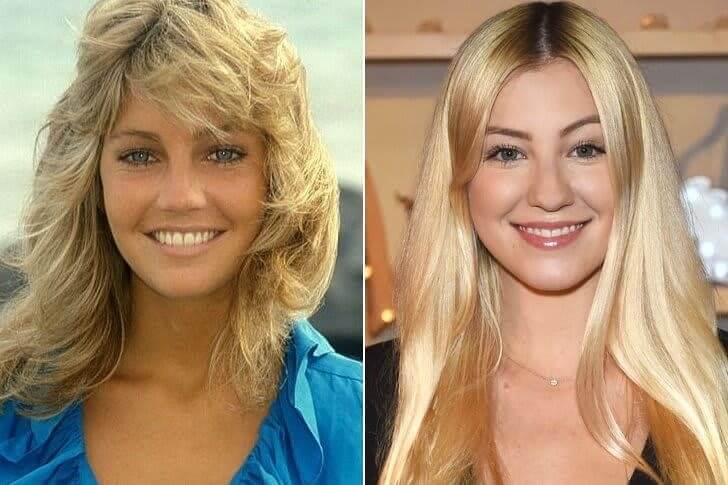 Her only child, Ava Elizabeth Sambora (born in 1997) is also an actress. Ava was in the film This is 40 and TV series such as Fresh Off the Boat and Good Luck Charlie.
Phil Collins and Lily Collins – Late 20s
Actress Lily Collins has transformed herself a lot over the years and is becoming one of Hollywood's most bankable actresses.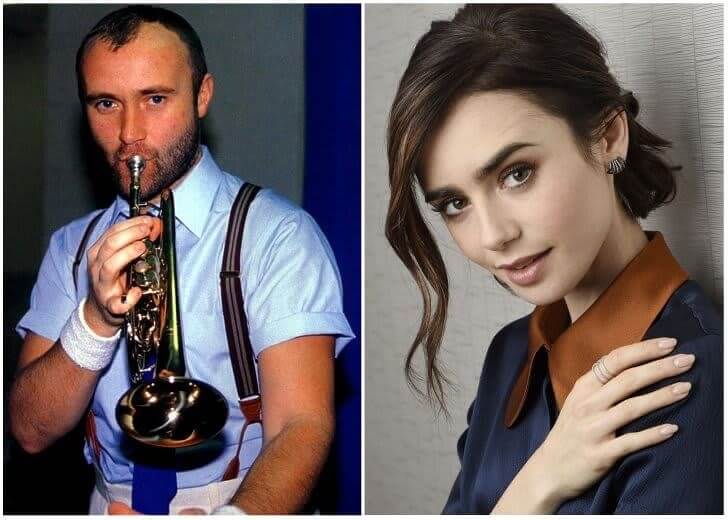 Her dad, Phil Collins, needs no introduction as well. He has an estimated net worth of $260 million. Lily looks a lot like her father, and thankfully, she does not lack talent or attractiveness.
Patrick Swayze and Jason Whittle – Early 40s
When the famous actor Patrick Swayze passed away in 2009 due to cancer, he left behind a grieving wife and no children.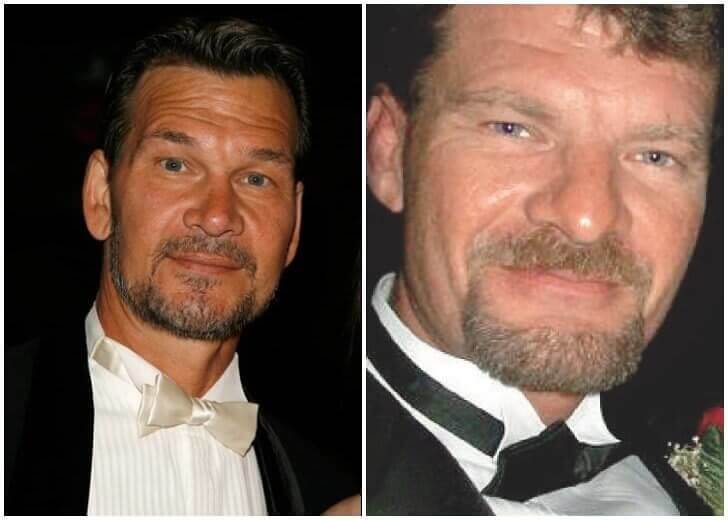 However, it was a complete shock for everyone when a man named Jason came forward with a claim that he is the love child of Patrick. Jason said he could even prove it with a DNA test. However, no official statement was made by Mrs. Swayze on it.
Elizabeth Taylor & Naomi Wilding – 30s
One of the legendary actresses of Hollywood's golden age was Elizabeth Taylor. She achieved immense fame in the '50s and '60s with roles in movies such as Father of the Bride, A Place in the Sun, and Cat on a Hot Tin Roof.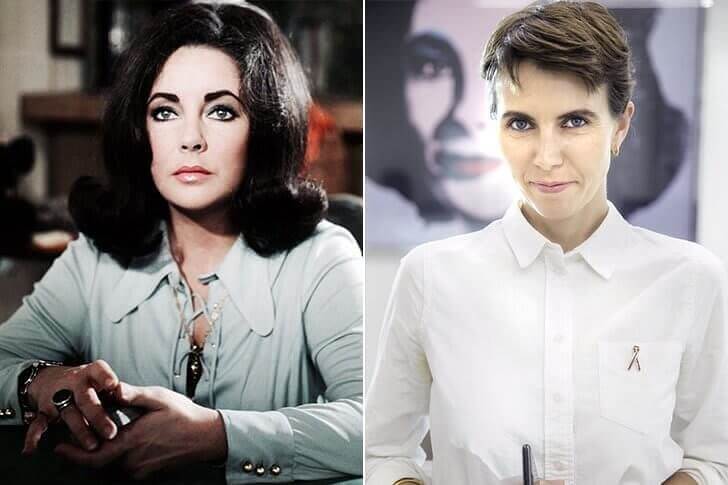 Did you know that she was the first actress to get $1 million for her iconic role in Cleopatra? She was married seven times and had three children. Naomi DeLuce Wilding (born in 1975) was her granddaughter from her son Michael. Today, Naomi is an ambassador of several foundations that are proudly named after Elizabeth.
Charlize Theron & Jackson Theron
To every mother, her child is special. However, little Jackson is, indeed, a special kid. When Charlize Theron adopted the baby, she was under the impression that she was going to raise a boy. But, Jackson identified himself as a girl.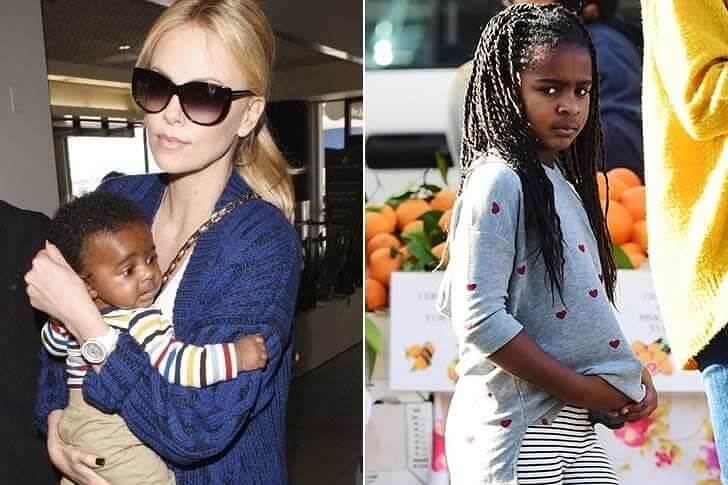 As a supportive mother, the gem of Hollywood accepted his choice and has since been upbringing her son as a female. You can see that Jackson has a great fashion sense like her mother.
Matt Lauer & Romy Lauer
Matt Lauer is a former television news anchor. There is one person who has always supported the former NBC show host, and that is his daughter Romy Lauer. As she is all grown up now and looks a lot like her father.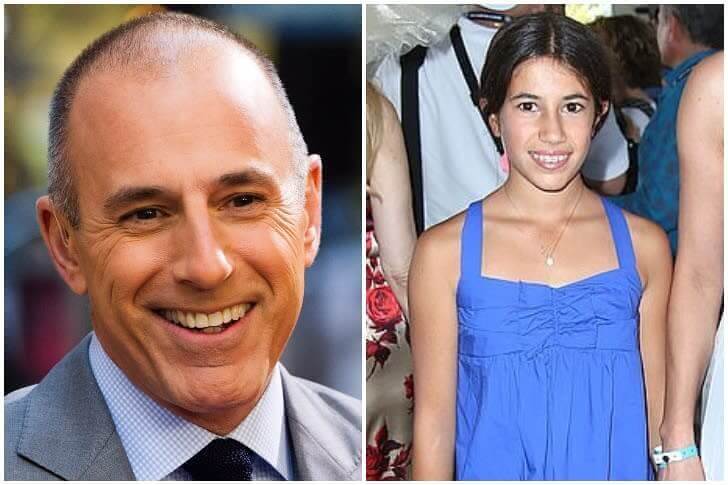 Romy is the second of Matt's three kids with his ex-wife Annette Roque. Both father and daughter can be seen sharing their great bond on TikTok.